Should I Upgrade to Windows 10?  Advice from Affordable Computer Repairs and Service, Brisbane Based Computer Repairs and IT Services
Don't Upgrade to Windows 10 – Yet…
This is Mark's (the owner of Affordable Computer Repairs and Service) advice and he has reasons for giving this advice. But before we look at why Mark recommends not upgrading to Windows 10 – as yet, let's have a look at the positive attributes of the new Windows OS upgrade.
For users of Windows 7 and 8.1 the upgrade is free. On systems that are eligible for the free Windows 10 upgrade – where automatic updating is enabled – the Windows 10 installer files download automatically in the background. However you don't need to rush to take advantage of this free upgrade, the offer remains valid for a year (from the end of July 2015).
Once you have upgraded, if you don't like the new operating system, it is fairly simple to revert back to your previous version of Windows within 30 days – as long as you have not deleted the windows.old folder which contains the previous version.
Windows 10 does not have those features that Windows 8 received most criticism for. Gone is the Charms bar and the Start Menu is back to a format that Windows 7 users would be familiar with.
One of the best features of Windows 10 is Cortana which is an intelligent assistant that allows you to control sections of your PC by using your voice. Microsoft are also going to release a version of Cortana for Android devices and the iPhone so all devices will be able to be synched.
There are several other good features of Windows 10 including Virtual Desktops. There is some good news for gamers too with Microsoft building in features specifically to enhance the gaming experience with Windows 10.
With all these great new features available for free, why not install Windows 10 immediately?
As with all new operating systems it takes some time for all the bugs to be ironed out. However, unlike previous versions of Windows, most users of Windows 10 won't be given the option to turn-off automatic updates from Microsoft (or have control as to when they choose to download and install). This system of forced updates makes you the computer user, something of a guinea pig for the software developers. Unless you have signed up to be a beta tester, it's not the position you want to be in.
As many of our customers have discovered, the transition to Windows 10 has been far from smooth and even those people for whom the transition went smoothly at first, began to run into trouble weeks later. It has often meant going back to their previous version of the Windows operating system (where possible), or having to reinstall their systems from scratch. Not to mention the loss of user files (documents, photos, music, etc).
Which brings us onto an important point – backing up your files first. If you just can't resist and you want to take the plunge – and see what all the fuss and hype is about – back up your files first. Better still, if you haven't made a recovery/ repair disk for your current system, this is the time to do it.  It will save you time and heartache if things go wrong.
Backing up your data also gives you the option to do a fresh installation of the operating system and device drivers on your computer. The big advantage in doing so is that minimises the risk of future system errors and crashes. Go to the Get Windows 10 page at  http://www.microsoft.com/en-us/software-download/windows10 and download the media creation tool to allow you to create a bootable USB drive, or setup files in an ISO format.
For XP or Vista users upgrading to Windows 10 is a more tricky issue…
For starters these users will have to pay for the new operating system. It's Microsoft's way of penalising those users who, through their reluctance to upgrade on a regular basis, are forcing Microsoft to maintain updates and support for these older versions of the Windows operating system, long after the company considers these to be "obsolete" and retired.
Secondly, for these users the "upgrade" will usually involve a full re-install which can be a very lengthy and tedious process. Furthermore users of these older operating systems may also be running programs that will not be compatible with the new Windows 10. Thus these programs too will require upgrading – if that is possible. Upgrades of some specialist software may simply not exist.
If you are running a Windows XP or Vista operating system, it's likely that it's installed on an older computer. Chances are that the drivers for video and sound cards, along with motherboards may not be compatible with Windows 10. Windows 10 with its range of features and enhancements needs more computer horsepower than its predecessors. Your old computer, good as it may be in powering XP, Vista, and even Windows 7, may not cut it when it comes to running Windows 10.
If this applies to you, it might be a good opportunity to retire your old system and buy that new computer you've been planning for – with Windows 10 pre-loaded and ready to go "out-of-the-box".
If you are currently running Windows 7 or 8.1 and your system is stable and running well, we recommend that you delay upgrading to Windows 10 for a little longer. In time, Windows 10 is sure to be a great operating system – but it's not there just yet.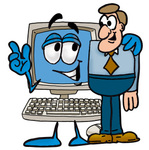 This Article – Should I Upgrade to Windows 10? – has been Provided by Mark Kotorac at Affordable Computer Repairs and Service, Brisbane Computer Repairs and IT Services
48 Octantis Street, Coorparoo, Qld, 4151
Phone 3397 1215