Computer Repair Rates
Affordable Computer Repair Rates
Affordable Computer Repairs and Service, it's not just a name, it's a promise!  If you ring around you will find that our computer repair rates are indeed very affordable.  Our phone number is 07 3397 1215 or 0409 974 707.
Computer/Laptop/Mac Repair Hourly Rate $125
We charge the same computer repair hourly rate for all types of computers, for PCs, Laptops, Notebooks and Apple Mac repairs.  Our standard hourly computer repair rate is $125.  This is considerably less than Geeks2u for example.  Please, do also note that whilst our hourly rate is lower, our customers have advised us that our repair services are far better.  We can afford to provide a better service with lower computer repair rates as we do not have the advertising costs that companies like Geeks2u have.  Customers find us through referral or internet search, as we do not advertise.
In terms of total computer repair cost, many computer repair jobs that we undertake can be completed within one to two hours.  This is a repair cost of $125 or $250.  If replacement hardware is needed, this is naturally an additional cost.  We will always give you an estimate of repair costs before doing any work so you can decide whether or not you wish us to repair your computer.
Diagnostic Fee $75
If the repair of your computer also includes the purchase of replacement parts you may be worried that the repair cost may be too high.  If this is the case we offer a $75 diagnostic service.
With the price of new entry, level computers (particularly laptops/notebook) now much less than they once were, it may sometimes be the case that the repair cost is close to the replacement cost.  Depending upon the age of your computer and the problem with it, we may indeed advise you to purchase a new computer or laptop etc.  Sometimes we can provide this advice over the phone after having a discussion with you.  Other times we will need to examine your laptop, notebook, desktop or all-in-one to determine the actual problem and then provide you with a more accurate computer repair rate.  In order to do this, an often time-consuming examination, we change a $75 diagnostic fee which usually covers only part of the time spent in diagnosing your computer.  This diagnostic fee is only changed when you, the customer, decide not to continue with the repair job.  If however, after diagnosis is carried out, you agree to have the computer repaired, then only the computer repair cost – as quoted will be charged, the diagnostic fee will not be charged.
We have provided some information in relation to whether or not to repair or replace that you might find helpful.
Computer Virus and Malware Removal Cost $190
We charge a fixed virus removal fee of $190 when this work is done in our workshop in Coorparoo, an inner southern Brisbane suburb.  You might find lower virus removal costs elsewhere but you may find that you end up having to pay the virus or malware removal cost two or more times.  This is because cheaper virus removal costs usually mean quicker virus removal jobs and quicker jobs mean less comprehensive checks for viruses and hence the potential for only some viruses on your computer to be removed.
At Affordable Computer Repairs and Service, we do an extremely though virus and malware removal job, running at least two virus scans of your whole system, and sometimes more.  You can be certain that with our virus and malware removal service your computer will be returned to you with all viruses and malware removed.
Data Recovery Fee $145
We charge a fixed data recovery fee of $145 for successful recovery if done in our Coorparoo workshop.  However, if after having spent some time attempting the recovery process we cannot recover your data then we will charge the $75 diagnostic fee.  If you require us to do this data recovery on-site (at your home or work), then the $125 computer repair hourly rate applies.  Please,  note that data recovery is a very long and involved process and if done at home or work, this can become rather costly.
If we are unable to recover your data from your Windows or Apple Mac laptop, desktop, notebook, or portable hard drive, then we will recommend a data recovery laboratory which has more sophisticated technology and clean room facilities, however the rates charged by such a business are far, far more costly than the $145 we charge for full recovery.
Screen Replacement Costs
The cost to replace your Windows laptop, iMac and Apple Mac screen is dependent upon the resolution, the availability of replacement screens and the display type.  We can provide you with a quote for your particular type of display.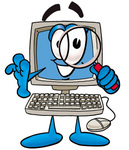 Affordable Computer Repairs and Service, it's not just a name, it's a promise!