About Us
About Us at Affordable Computer Repairs and Service
Affordable Computer Repairs and Service was founded in 2010 by Mark Kotorac with a focus on providing a professional service with a high degree of technical expertise to home users and small businesses.
We are not a large chain computer repair and IT services business. We are in fact a small local Brisbane based business.  We do however provide the same (we think better!) service than the 'big boys' do – and at a more affordable rate.  We can achieve this because we do not don't have the high overheads that the chains have.  With lower running costs we can pass this saving onto our customers, providing affordable repairs and services.
Our growing success is due to the relationships we have built with our customers and our extensive experience, technical skills and cost-effective rates.
With Affordable Computer Repairs and Service you will be dealing with either the owner of the business (Mark Kotorac) or one of the handpicked expert technicians that we have on call.
Mark is not only a highly knowledgeable and experienced technician but he also has extensive business and marketing skills and consequently Affordable Computer Repairs and Service is professionally managed and smoothly run.
Local Family Business
Repairs, upgrades, virus removal, computer builds and IT services are provided by the owner Mark Kotorac and our expert contractors.  All the marketing and website (SEO) work is done by Mark's wife Karen Thorogood.   Karen may also answer your calls having a good knowledge of the computer repair business and a very friendly, yet professional manner.
Although we are a small business we have proved very capable in meeting a high volume of customer needs.  The normal workshop turnaround time is two to three days which is far quicker than you will find with many of our competitors.  Most of our residential (and even some business) customers prefer to bring their machines to our workshop based in Coorparoo.
The workshop encompasses the entire bottom level of our Coorparoo home and has a separate entrance off Mars Street (number 66).   The address for our business is 48 Octantis Street or 66 Mars Street, Coorparoo, we are located on the corner of these two streets.
We can also usually provide a mobile service the next day if not on the day that you call, depending on the time you call and our level of commitments.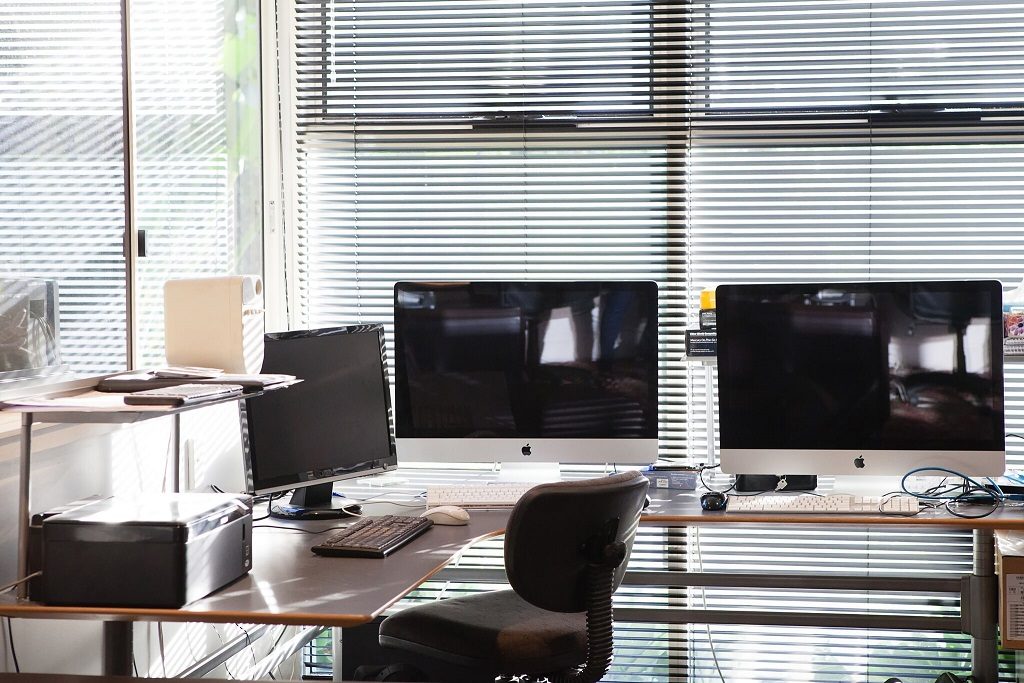 OFFICE AT AFFORDABLE COMPUTER REPAIRS AND SERVICE
Background
Both Mark and Karen had corporate careers before setting up Affordable Computer Repairs and Service.  Mark has an MBA from Queensland University and Karen has a Bachelor of Social Science majoring in Economics and Marketing from the University of Cape Town.
With business qualifications and extensive business experience Mark and Karen have now run the very successful computer repair business for 7 years.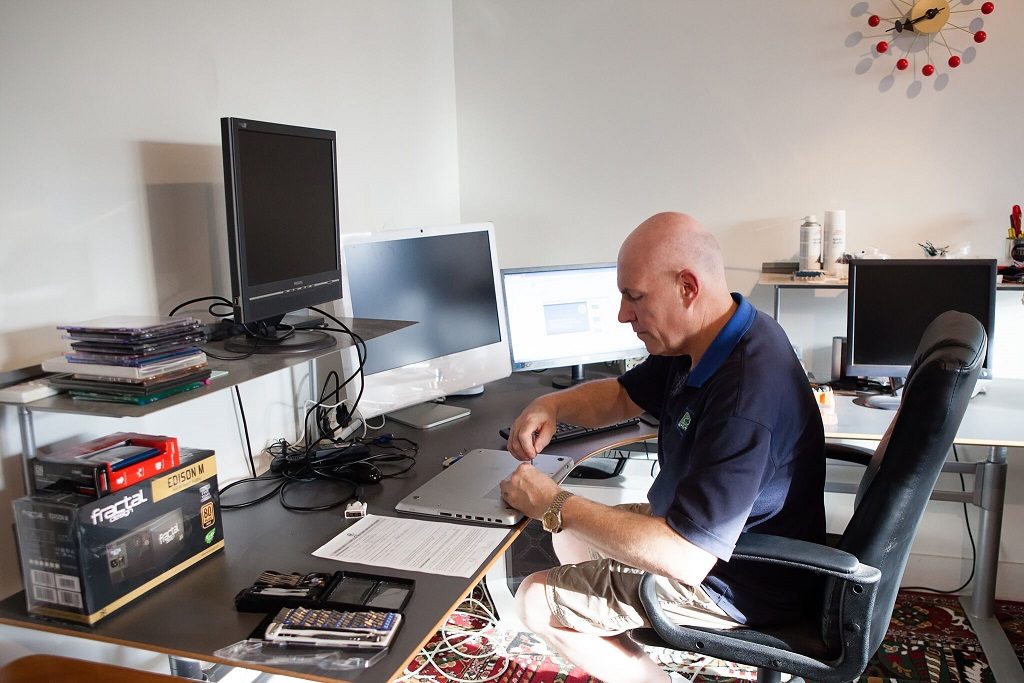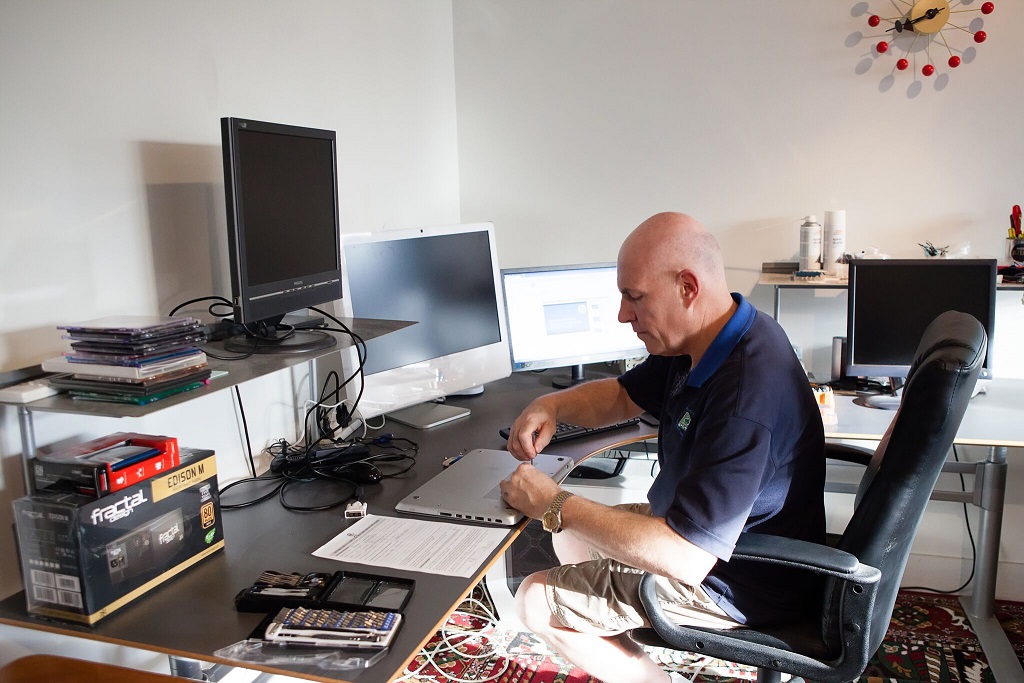 MARK AT WORK
Mission Statement
At Affordable Computer Repairs and Service we are dedicated to providing the highest level of technical expertise and efficient, friendly customer service to all our customers – individual private clients and businesses alike.  We focus on customer satisfaction and our goal is to provide professional expert repairs and IT services at an affordable rate.  Our aim is to continue to grow our business through customer satisfaction which generates referrals and repeat business.


Business Details
Date Business Founded: 2010
Business Name Registration Date: 09/08/2013 Affordable Computer Repairs and Service
ABN: 55614300125 Kotorac, Mark
Website: https://affordablecomputerrepairs.com.au/
Address: 48 Octantis Street, Coorparoo, Qld, 4151 We are on the corner of Octantis Street and Mars Street, business entrance at 66 Mars Street.
Phone: (07) 3397 1215 or 0409 974 707
Email: markkc@affordablecomputerrepairs.com.au
Professional Associations
As a Professional Business we are Members of a Number of Business and Industry Associations:
Member of the Association of Computer Repairs Business Owners
Foundation Member of the Internet Society of Australia
Member of the S.E. Brisbane Chamber of Commerce
Member of the Family Business Association
Member of the Queensland Chamber of Commerce
We also support Carindale Connect
Our Services
Affordable Computer Repairs and Service, we provide:
Experienced Professionals
With years of experience we can tackle any problem you may have with your PC, Laptop or Mac or other IT issue.  Our expertise is demonstrated by the satisfaction of our customers as seen by the customer reviews on this site.  We get to know you personally and you don't need to worry about being sold services that you don't really need.
Affordable Rates
We don't have the high advertising costs of the large chains and thus are able to provide you with an affordable service.  We do not however ever compromise on quality of parts that we utilise.  We charge $125 an hour to repair your computer – parts incur an additional charge – these rates are significantly below that of some of our competitors.  We never purchase and replace parts without your approval.
Repair jobs done in our office/workshop are often more cost-effective as we can multi-task (and thus reduce costs) when we are backing up files, re-installing your operating system and applications or running a virus scan etc.  If you use our mobile service naturally we will bill you for the full time that we are at your home or office.
Trustworthy, See Our Customer Reviews
We have built our business based upon customer referrals and returning customers using more of our services as they have learnt that they can trust us with their computer(s), valuable data and treasured photos – and that we will do a thorough and effective repair or service for them.
No Minimum One Hour Charge
We charge in 15 minute increments and if the repair job is completed very quickly we will only charge you for the time taken – there is no minimum one hour fee – even if we come to your home/office to repair your computer – we don't charge for the time taken to get to your home/office.
Friendly Service
We pride ourselves in providing a very high level of customer service – our customer reviews attest to our friendly and approachable manner.  We will explain in plain English what is wrong with your computer and the steps needed to fix it.  You will be dealing with the same people who care about repairing your computer and your needs and we will keep your informed during the repair process.
Quick Service
For a mobile service we are usually able to come to your home within a day or two – sometimes if it is really urgent we can do same day service – this is often necessary for businesses.  We always do our utmost to repair your computer as quickly as possible.  For workshop repair jobs, some are completed overnight as we often work out-of-hours to repair your machine – usually our turnaround is two to three days.   If it is going to take any longer to fix your computer we will inform you of that fact.  If you have an older computer, particularly older Macs it can sometimes take a few days (or even longer) to chase down the parts that you need and this delays the repair job.  Should this be the case we will telephone you to let you know when we expect to be able to successfully complete the repair.
No Call Out Fees
We do not charge call our fees, we do not charge travel time, nor do we charge a minimum one hour fee to come to your place of business or home.  Please check our mobile service area.
Extended Opening Hours
Our office is open 6 days a week between 8am and 6pm, Monday to Saturday.  If needed, we can arrange out-of-hours drop offs/pick-ups during the week for clients working full-time.  For businesses requiring out of hours trading time repairs and services we can do this for you over the weekend, depending on the scope of the work involved it may be possible to do this after close of business during the week.
Affordable Diagnosis Fee
You need to request this service.  For us to diagnose the problem with you machine, you need to bring your PC, Laptop or Mac to our office in Coorparoo.   We charge $75 to provide you with a diagnosis of what is wrong with your computer, the repair cost, including parts if necessary and then advise whether or not it is going to be economical to repair your machine.   This fee is only charged if you decide not to proceed with the repair job.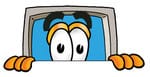 That's All About Us –  Please Contact Us For More Information

Ph 3397 1215 or 0409 974 707