Computer Repairs Greenslopes
Computer Repairs Greenslopes, based in Coorparoo and being just 5 minutes from Greenslopes we are well positioned to provide a prompt and efficient repair service to small businesses and home users in Greenslopes.  We are only one suburb away.
We are your local computer repair business, and not having the high costs of the major chains can provide you with an affordable, yet highly experienced computer repairs and IT services.  We are experts in PC, Laptop and Mac repairs.
Whether your computer won't boot or you have a virus or in need of an upgrade, just give us a call on 33971215 and we will either come to your home/business or arrange for you to drop off your computer at our office in Coorparoo.
In deciding whether or not to choose Affordable Computer Repairs and Service to trust with you machine and valuable data, please read some of our customer reviews on this site.
Our rates are a competitive $125 per hour charged in 15 minute increments.  Most repairs and IT solutions are successfully completed within an hour or two.  We don't bill over 3 hours for work undertaken in our workshop.
You are very welcome to drop off your troublesome computer at our office, 48 Octantis Street, Coorparoo.  We are open six days a week from 8am in the morning to 6pm in the evening.  We also offer a mobile service to your home or business in Greenslopes and do not have a call out fee.
The Services Tab details our extensive range of repairs, upgrades and IT services.  Listed below are the most frequent problems that computer users experience:-
Computer won't boot or is frozen
Computer keeps crashing
Liquid spill on laptop
Hardware replacement
Software incompatibilities and/or other issues
Hardware and software upgrades
Time for a new computer?  We can build you an affordable PC to your specific needs using quality parts.
Computer Repairs Greenslopes, we are 5 minutes away.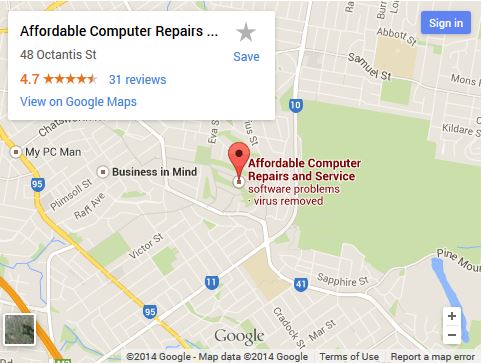 Computer Repairs Greenslopes – we are located at 48 Octantis Street in Coorparoo