Computer Repairs Carina
Computer Repairs Carina – We are just 5 minutes away and provide expert (as well as affordable) Mac repairs, computer repairs, Laptop repairs, and IT services for businesses and families within Carina.  We repair and upgrade etc. computers in our workshop in Coorparoo, please firstly telephone us or you can use our mobile service.
Several reasons to call us:-
Computer won't boot up
Blue screen of death
Machine is running very slow
Lines running across your computer screen
Poor or no internet connection
Need a new PC built just for you
Having problems with your network
We are accomplished in tackling all PC, Laptop, Mac and server problems and don't charge an arm and a leg to get your machine up and running.  Our rates are $125 per hour – please feel free to check  the rates of our competitors…
For repairs and services done in our Coorparoo workshop we always make sure you know what work is being done and won't proceed with any tasks without your say so, in fact you may won't to read our blog on whether you should repair or replace your machine.
We are not a 'fly by night' business and rely on word-of-mouth and satisfied customers to build our business, so look forward to meeting you and having the opportunity to create another happy customer.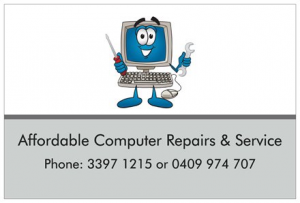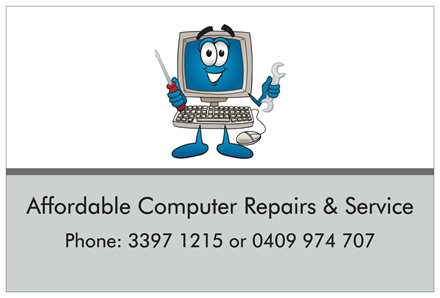 Computer Repairs Carina – Affordable Computer Repairs
Phone 3397 1215 or 0409 974 7107