Mac Repairs Brisbane
MacBooks, iMacs, iMac Pro, Mac Minis, MacBook Air, MacBook Pro, all Apple Mac Repairs

We are very experienced in providing expert and cost-effective Apple Mac repairs, services and upgrades.  We repair and upgrade all models of Macs, all versions of Mac operating systems and Macs of all age.
For the most affordable and best mac repairs in Brisbane contact Affordable Computer Repairs and Service 3397 1215.
Mobile and Workshop Mac Repairs Brisbane
Our mobile service area includes the inner northern suburbs of Brisbane (up to Chermside) and southern suburbs of Brisbane as far as Springwood. Our Coorparoo workshop for Apple repairs is 10 minutes south of Brisbane CBD.
Apple Mac Repair Costs
Most Apple repair jobs are completed within one to two hours, our hourly rate is $125.  Replacement components, if required for the repair of your Apple Mac would be a further expense.
For all IT services and Mac repairs, we do in our Coorparoo workshop our labour is capped at 3 hours.
We charge the same rate for mobile Apple repairs.  We do not charge travel time or a call out fee for Mac repairs.  There is however there is no cap on mobile Apple Mac repairs, upgrades or Mac data recovery.
Apple repair costs with us (in terms of labour) are priced at the same rate as all other computer repair work that we do.  You will find that the fees charged by other Apple repairers are a lot higher than ours.  We see no reason to charge at a higher rate for Mac repairs.  Thus our Apple Mac repair prices are below the industry average.  (We have been told that our Apple repair skills are well above average!)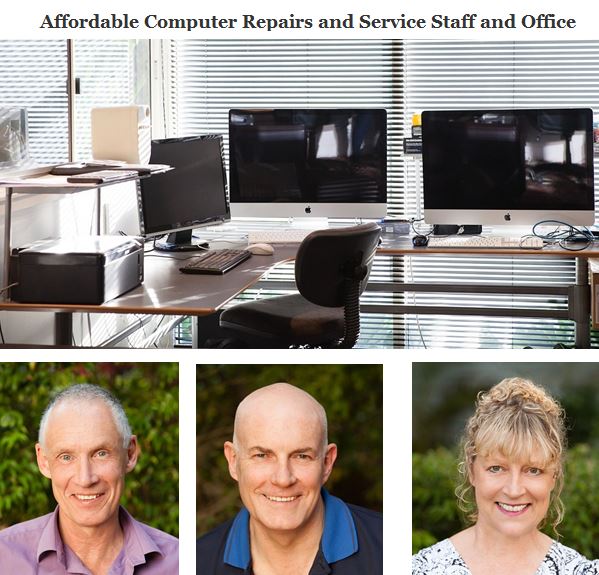 Expert Local Mac Repairs for Brisbane residents and businesses
We are very experienced Apple repairers.  In fact, due to our Apple repair skills, nearly half of our computer repair business is comprised of Apple MacBooks and iMac repairs and upgrades.  We believe we obtain such a high number of Apple Mac repair jobs is as:-
We do an exceptionally good job;
Our fees are extremely affordable;
There are not many good Apple repair technicians in Brisbane (for the after warranty market) as few Brisbane computer repair businesses also specialise in Apple repairs as we do.
Trustworthy Apple Mac Repairs and IT Service
Please review the customer reviews on this site and Google My Business and Truelocal.  This will provide you with confidence that your valuable Apple Mac and your invaluable data will be in trustworthy and expert hands.
Apple Mac Repairs, Mac Upgrades and Mac Services
Apple Repairs
Mac won't boot or screen frozen
Mac won't power on
MacBook screen replacement
Liquid spill on your MacBook
Overheating issues and cooling fan replacement
Replacement of faulty hardware, including RAM
Software troubleshooting, including MacOS
Mac malware and virus removal
MacBook and iMac screen replacement
MacBook, iMac, Mac Mini hard drive replacement
and more…
Apple Mac Upgrades
Mac RAM (Memory) upgrades
Upgrade of hardware components, including hard drives and SSDs
Installation of new software
Installation of a new operating system
Apple Mac Data Recovery
Retrieving non-accessible user data, including photographs and files.  The success of data recovery depends upon the amount of damage to your hard drive.
Full recovery of Mac system
Portable Hard Drive Data Recovery
Address and Contact Details
If you would like us to repair your  Macbook, iMac etc at our workshop, you can find us at 48 Octantis Street, Coorparoo.  Our workshop is located on the corner of Octantis and Mars Streets in Coorparoo, an inner Southern Brisbane suburb.  The office entrance is off Mars Street.  Please give us a courtesy call first on 0409 974 707.
If you wish to have a mobile service and are located in the inner northern Brisbane suburbs please call 0413 712 666.  If you are in the southern Brisbane suburbs call 0409 974 707.
Repair Process
As part or workshop service we will always let you know how your repair job is progressing.  We never purchase parts without your say-so.  If a job is going to take longer than two hours we will contact you first before proceeding.
Diagnostic Service
We also have a $75 diagnosis service.  This service is useful if you are considering replacing rather than repairing your Apple Mac.  We will diagnose the fault and provide you with a repair quote.  This will allow you to decide whether it is better to replace or repair your Mac.  We need you to deliver your Mac to our workshop for this service.
The diagnostic fee applies only if after the outcome of the diagnosis you decide on purchasing a new Apple computer.  If you decide that you would like us to repair your Apple Mac, then we don't charge you the diagnostic fee.  Nor do we charge the diagnostic fee if you engage our services to recover data from your Apple Mac.
Should you request, we can provide you with realistic and practical advice on your next Apple Mac purchase or system upgrade (including hard disk drive / SSD, RAM or MacOS).
Apple Mac Under Warranty?
If your Apple Mac is still under warranty you need to take it to a Brisbane Apple Store.