PayPal Email Scams
The latest bout of email campaigns that is occurring in Australia at the moment if scammers posing as PayPal.  The purpose of these emails is to fraudulently obtain your PayPal account login, password and your banking and credit card details from you.
There have been several different versions of these PayPal scams that have come through various email accounts in the last few weeks.
PayPal Scam – Legal Announcement
The first PayPal scam poses as an official email notice from PayPal announcing change to legal agreements.  This sneaky email has successfully taken in many poor unsuspecting victims.
There is more information available about this particular scam here.
PayPal Scam – Discount on Goods
The second PayPal scam cleverly draws you in by offering you a 15% discount of goods – as well as pretending to be a monthly PayPal Statement.  This scam is given away in the same way as the first.  The sender of the email is paypal@e.paypal.com – obviously not the official PayPal email address.
PayPal Scam- Transaction Declined
Another PayPal scam informs you that your PayPal transaction was declined.  The email then provides information on how to 'complete the payment'.  Should you follow these steps you will end up providing the scammers with your banking details or credit account details…
This hoax PayPal email attempts to make you click on the links in order to make contact with "customer service" regarding a purchase that you did or did not make.  In this instance the senders' email address really gives this away as a scam – news-bounces@actv20.org – on behalf of PayPal.
Recognise and Avoid these Scams
The images below show you what to expect and avoid.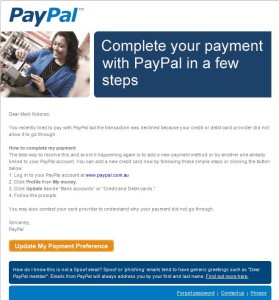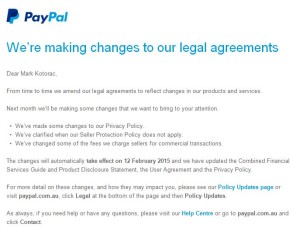 Advice on PayPal Scams by Affordable Computer Repair and Service