Australians and Internet Shopping
The use of the internet for online shopping by Australian households continues to grow.  According to the results from the latest Australian Bureau of Statistics nearly two-thirds of 64% of all Australian internet uses aged 15 years and over make internet purchases.  This has increased from 61% in 2006-07.
According to the ABS domestic internet retail sales were estimate between $19 and $24 billion.
What we are Buying Online
Australians purchase a range of goods and services online. According to the Australian Communications and Media Authority (ACMA), the most popular online purchases were travel goods and services (56% of all online shoppers). Entertainment events, concerts and movie tickets were next most popular (43%).  Household goods including furniture, electronics and computers were purchased by 37%.
Convenience (74%) was the most common reason for shopping online followed by lower prices (38%) and a wider availability of products and services (16%).
Who is Shopping Online
Interestingly, men (74%) were reported to be more likely to make online purchases than women (65%).
Online shopping patterns also varied between age groups with no unsurprisingly  the youngest age groups those aged 25-34 years (82%) and 35-44 years (79%) dominating online purchases.
Younger shoppers also purchase a large number of goods and services with 15% of those aged 25-34 years having purchased 16 or more goods or services online in the 6 month research period to November 2009 and with 18% of 35-44 year olds doing the same.
The value of purchases made is also interesting with over half (54%) of Australian internet shoppers spending less than $1,000 online in the 6 months period.
A survey commissioned by LivePerson also provides some interesting insights into online shopping behaviour:-
A large majority (74%) of Australian shoppers research online before they shop in-store – this compares to 78% at a global level.
A significant number (23%) research on their mobile while in-store.
Online shopping is quicker with only 32% of shoppers saying that they spend more time online than they do in-store.
What we expect when Shopping Online
In general, online shoppers are less satisfied (64%) with customer service when shopping online, than they are when shopping in store (73%).
Australian online shopper expect quick service with 62% of shoppers expecting to access  help within a five-minute time frame.  Over half (54%) say they would give up immediately – or only try once if seeking help when making an online purchase
This need for quick online support is illustrated by the fact that over a third of Australian online shoppers abandon a website if they have difficulty in getting any help online.  This is the highest result of all the countries included in the survey commissioned by LivePerson.
The results of the survey clearly show that even with the growth in online sales, there is still even more opportunities to increase sales through better designed websites and greater online customer support.
Affordable Computer Repairs and Service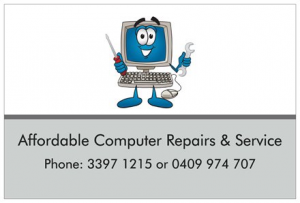 Please Share on Social Media