How to make my mouse work properly – In Article One on this subject we listed many reasons for why a mouse may not work properly and also how to remedy the problem. This article continues on the same subject for those who still couldn't get their mouse to work after attempting all the methods supplied in the first article.
The Obvious
Before troubleshooting any further try re-booting your desktop, laptop or Mac. This way you may not determine why your mouse is playing up – but it might just start working again. A re-boot is often an excellent way out of resolving a problem.
Correct Port
It can be infuriating to discover that your mouse was simply plugged into the wrong port, but at least it is an easy fix.
Reset your Mouse
If you have recently changed the batteries in your wireless mouse (or even if you haven't) try pressing the reset button on the wireless receiver and on the mouse, you never know this just might do the trick. Some devices require the use of a pen to depress the button, please do be careful.
Connections
Have you moved your laptop or desktop recently? You may have inadvertently loosened the connection to the USB port.
Mouse Touch Pad
Some laptops come with a disable button just above the mouse touch pad. If this button has been depressed it will result in your mouse not working. Merely press the disable button once and you might find that your mouse is working again. Remember; push the button once only, if you do it twice by mistake that will deactivate the mouse. 
Recent Update
It is quite possible that a recent update of software is the cause of your difficulties. In these circumstances re-starting your machine should rectify the situation.
Ram
It could be that your mouse problems are being caused by insufficient ram on your computer, try turning off some of the programs that are running in the background and that you are not using. If this seems to help, it might be time to upgrade your machine by installing additional ram. The installation of additional ram is a fairly easy task; you do however have to open up your machine in order to install the additional ram and it maybe that your machine cannot actually be upgraded as you already have the maximum amount of ram installed. In this case you need to do a thorough examination of your use of your computer, can you delete enough applications and data to make your computer run properly or is it time to investigate your options of buying a new one. 
Virus, Trojan or other form of Malware
One of these malicious programs could be the cause of your mouse poor or lack of function. Whilst you may have good up-to-date malware protection on your machine, no computer can ever be fully safe from a malware infection. If you bring your computer to us in Coorparoo we will remove all traces of malware, add protection to your PC or laptop and return it to you the way it was before it became infected – and with your mouse working!
We charge $190 for this service which might seem a lot but we undertake a very thorough clean of your machine by running two full anti-malware programs, we will install some virus protection for you and then carefully check your computer. It takes us at least two hours to do this job properly for you.
Affordable Computer Repairs and Service, we can be found at the intersection of Mars and Octantis Streets in Coorparoo.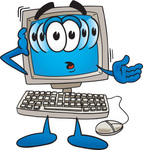 How to make my mouse work properly
Please Share on Social Media