Free Antivirus VS Paid Antivirus
I often get asked if there are any good free antivirus programs.  Generally free antivirus programs can vary as much as paid programs and as such they can offer different qualities of protection. There are literally dozens of free antivirus programs out there which can be downloaded as well as the free Microsoft program Defender which has shipped since Windows Vista right through to Windows 10.
But, one thing I would like to state is that everyone, particularly with a Microsoft computer (Windows) should have an antivirus program. Viruses are becoming more common on Macs as well so be careful. Malware in its various forms are a daily nuisance and a constant threat.  In fact malware removal is increasingly becoming a larger portion of our computer repair business.
Are There Any Good Free Antivirus Programs?
The answer is yes, there are good free antivirus programs that will give you some protection, however they do not have everything that a paid security program can generally offer.
There can be time limits, some can be run as a "demo" – in other words it can find a virus or viruses and then demand money to remove it.  Some will run and update automatically for ever or some just for a "Trial" period.  There are many combinations and permutations to these and as there would be 50 plus antivirus packages for PC and probably half that for Mac it is hard to keep up with them all.
Also, a review of one is outdated by the time you read this article.  So I have decided to list the different attributes of this particular genre.
Characteristics of Good Free Antivirus or Paid Antivirus Software
Below are some items to look for when looking for either a good free antivirus program or a good paid antivirus program.  This is not an exhaustive list as you may have different criteria when deciding to purchase an antivirus program or use a good free antivirus:
Do you need technical support with a problem? You may not think so now but technical support in the form of telephone or email can be useful at times.
Are the technical support team in Australia or have an Australian number?
The free versions can be a little behind on the new virus/malware.
The free versions may not have such an expansive database of malware signatures therefor making them less effective in stopping viruses.
Is the antivirus package you want cloud based or installed on your computer? Cloud based can be good but an Internet connection is always required to run the software. They can be more up to date as well.
Free versions can have fewer scanning options which may or may not suite your requirements.
Many free antivirus programs contain "nagware" always nagging you to upgrade. This can be very tiresome.
Many free antivirus programs also give you "free" programs you don't want or need. Some of these programs are unnecessary search toolbars which can be more dangerous than they are helpful.
Many free programs feature adverts for other products, and again are generally unwanted.
More expensive software as a rule (in various tests) have shown it is not especially faster or not necessarily caught more malware.
Free programs also seldom offer parental controls which can keep kids off inappropriate sites or warn them about cyberstalking and bullying.
Free programs can also may not offer specific features or that you cannot change rules and behavioural exceptions.
Some free programs want to change your browser's web home page and default search engine, which again can be tiresome.
Free Antivirus VS Paid Antivirus
The best advice whether free or paid antivirus is to research different antivirus programs, and always read carefully the options when installing. Look for tick boxes and radio buttons when installing any software free or not.
The last point I'd like to make is be careful what websites you go to, if it looks dodgy then it probably is. Be Alert, Australia needs more Lets.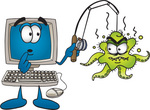 This article was written by Brisbane Computer Repair Business Affordable Computer Repairs and Service.