Brisbane Computer Repair Business with Highly Rated Reviews
As a successful computer repairs business we have over the years received many very complimentary reviews from customers.  Having a large number of positive computer repair reviews both recent and older reviews we believe has been instrumental in generating more business for us.
We are a Brisbane based computer repair business with a 4.8 rating out of 5 from the 63 Google reviews that we have received.  This is as of 19 June 2017.  61 of the 63 reviews are four or five-star reviews.  The other 2 reviews are only 1 star.
We were actually rather pleased to receive these two 1 star reviews as with so many other accolades in terms of computer repair and laptop repair reviews we were starting to wonder whether the reviews were in fact believable!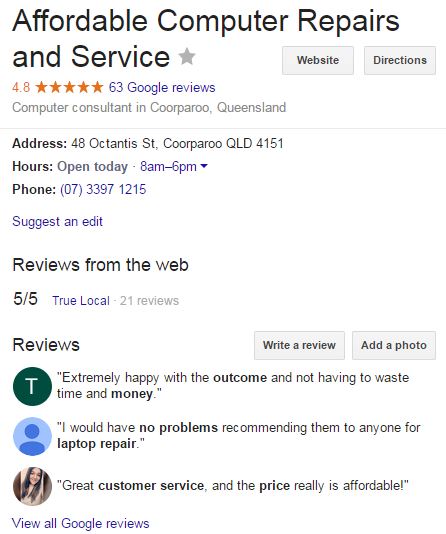 Valid Computer Repair Reviews
Unfortunately, it is quite easy for businesses to write their own reviews and put them up on their websites and with a bit more effort to also put them on review websites.  And this sort of unsavoury behaviour is often from the types of businesses that you really are seeking reviews for so as to be certain that the business is not 'dodgy'.
Unfortunately for businesses like computer repairs, it can be difficult to prove to a customer that the work that has been done and that they are being charging for has in fact been done.  There is not an easy way to visually show or demonstrate that the work has been done as promised and thus customers find that one of the best ways to determine the honesty and integrity of such businesses is to read the reviews that have been written by previous customers.
It is for this reason that we asked our customers to write reviews for us and to write them on trustworthy review websites.  These include Google Plus as discussed already but also True Local.

Some customers have also chosen to write reviews for us on our Facebook Page and if you surf the net you will find other reviews appearing on other different sites that clients have selected to leave reviews for us on.
Collecting Reviews is Not Easy
It is in fact not easy to collect computer repair reviews as it does take the customer some time to do and a bit of effort is required.  Thus to achieve a number of positive reviews the service truly does have to be excellent as you are asking quite a favour from your customer.  For example to leave a review with Google Plus a customer may have to first create an account before they can leave a review.
Our Excellent Computer and Laptop Repair Reviews
We are very proud of the wonderful computer repair reviews that we have, and we do take the time as well to reply to each review.  If you are currently looking for computer repair reviews by which to judge whether a computer repair business is on the up and up, then please do read our reviews, on our website, on Google Plus or True Local – and when we have provided you too with five star service, could you please write us a review too?
Affordable Computer Repairs and Service
We are a Brisbane based computer repair business and are located at 48 Octantis Street in Coorparoo an inner southern suburb of Brisbane.  We have a workshop at this address and we also offer mobile repairs if preferred.  Please call us on 3397 1215 or 0409 974 707 and we will discuss with you the problems you are having and the likely best solutions before you bring your computer to us or before we come to your home or business.