Examples of Email Phishing scams are provided below.
An email which appears to come from your bank warns  you that there is a problem with your account.  You are asked for your account details in order that the 'bank' can protect your money.  If you do provide the information, the scammers will use the data to hijack your assets.  Another example is a message claiming your details for security or a maintenance upgrade or that you are due to receive a refund, again you will be asked to provide banking or credit card details.
An oldie, but a goodie is the Nigerian scam which promises you money if you 'help' the scammer by providing your banking details in order for the scammer to transfer all of their money out of the country.  It sounds too good to be true and it is.
A frequent phishing scams promises you a large income by working from home – if you first transfer money to the spammers account.
You may receive a message on your computer telling you that you have won a competition or a lottery – however you haven't even entered one.  This type of scam usually presents a sence of urgency, requesting immediate action from you or else you lose out.  The scammers will request that you pay a fee in order for you to obtain the winnings.  Once paid, they will come back requesting more and more money.  As for other phishing scams they will also try to trick you into providing you banking account or credit card information.
Spammers use spyware and key-loggers to watch what you do on your computer.  This way they can record which keys you press on your computer keyboard thereby steal your personal information such as passwords and online banking details.
What you should do
Install and keep up to date security software on your computer.  You may want to consider turning on automatic updates.
Only use trusted websites when shopping on the net.
Ensure that your computer's browser is current.
The software that you have on your machine also needs to be kept up to date.
Try not to use public computers for your internet banking as spyware and key-loggers maybe on these machines.
When doing internet banking, check that the last sign-in date and time is correct.  Also check bank statements sent to you by your bank for unusual or unauthorised transactions.
On-line banking using remote access is a security risk, it is essential that passwords are strong – wireless networks are also a security risk when doing banking over the net.
Never give your personal or bank account details in an email or over the phone.  Legitimate businesses will never ask you to provide information in this way.
If you think the email is legitimate check with your service provider or bank to confirm the legitimacy of the message.  Don't call any of the numbers provided on the email or SMS, rather look up the number for the business on the net or from information sent to you by snail mail from the institution.  With the amount of phishing now occurring, most banks and financial institution have dedicated internet security staff who will be able to assist you.
Report the scam to the business that the scammers are impersonating.
Always report any spam to the Australian Communications and Media Authority.
Always access an internet account website for banking by using a bookmarked link or by typing the address in yourself and always logout of the site when you are finished.
If you have been caught and provided banking account information through a phishing email, you should immediately contact your financial institution so that they can freeze your account.
Make sure that you have set strong passwords on your computer and change them regularly.
Do not click on any links in a spam email nor should you open any files attached to them.
Don't ever call a telephone number that you see in a spam email.
Share the "good news" –  inform family, friends and colleagues of the threat to help protect them from being tricked through the phishing scam.
Example of a Hoax Phishing Email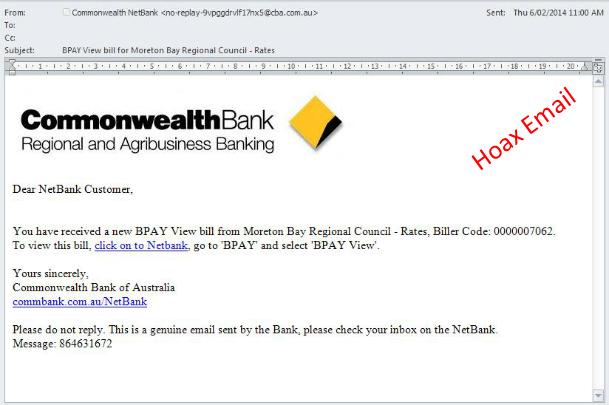 Email Phishing Scams – Affordable Computer Repairs and Service
Please Share on Social Media