A few computer facts and interesting information for you…
The world's first computer (named the Z1), was invented by Konrad Zuse in 1936.  His next invention was the Z2 which was finished in 1939.  The Z2 was the first fully functioning electro-mechanical computer.
One of the world's leading computer and computer peripheral manufacturer Hewlett Packard was first started in a garage at Palo Alto in 1939.
The first Apple computer was built by Steve Jobs and Steve Wozniak and was made by using parts they got for free from their employers.  They made the Apple computer from scrounging spare parts from their workplace.
Bill Gates, the founder of Microsoft was a college drop out.
Doug Engelbart invented the first computer mouse in 1964, and it was made out of wood.
A program named "Rother J" was the first computer virus to come into sight "in the wild" — that is, outside the computer or lab where it was created.
The billionth personal computer was sold in 2002 and the second billionth personal computer was sold in 2007.
The average computer user blinks about 7 times a minute – the normal rate of blinking per minute is 20.
Approximately,6000 viruses are released every month.
More than 12,000 laptops go missing at U.S airports every week!
Although today webcams are used mainly for user-to-user interaction and sometimes inappropriate endeavors, the first webcam was used to monitor a coffee pot at Cambridge University!
Note:  This information has been sourced from multiple locations on the net and may not be 100% accurate.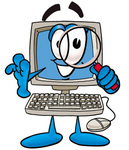 Computer Facts and Interesting Information
48 Octantis Street, corner of Mars Street, Coorparoo
Phone : 3397 1215 or 0409 974 707
email : markkc@exemail.com.au or karen.thorogood@exemail.com.au
[gravityform id="1″ name="Contact"]