Choosing a new home PC
Choosing a new home PC can be a daunting task for non-tech minded users.  Before you go into the store or shop on the net its best to do some research first.  You are also welcome to contact us for some free advice in you wish.
What do you need your new PC for?
When buying the best PC for you and your family the first thing you need to do is work out what you need the new PC for.  Most often home PCs are used primarily for internet surfing, watching movies and doing work in Excel or Word.
If this is what you are looking for in a home PC, there is no need to spend a lot of money on cutting-edge components that you don't need.
Most important factor of your PC
The most important factor in the cost and performance of your new PC is the processor.  You need to choose between dual-core, quad-core, and six-core.  Basically the more cores, the more tasks you can perform simultaneously.  If your use of the machine is only to perform simple function you can save money buying a PC with a dual-core processor.  However if you are likely to have multiple applications open at the same time we recommend that a quad-core processor would be more appropriate.
What Ram do you need?
Ram is the working memory in your PC and after the processor Ram is the next most important factor relating to the speed of the machine.  Basically the more working memory you have, the faster you will be able to download files, load and print.
Some budget PCs have only have 2GB Ram, salesmen looking for a quick sale may tell you this is all that you need, however you will find out that in a very short time your machine will run far too slow.
You can probably get away with 4GB of Ram; however you may want to consider 6-8GB which would allow for potential new complex programs that you may decide to use in the future.
As far as storage goes, a 500GB hard drive should be sufficient for storing your data.
Choosing a new PC screen
Choosing a computer screen is quite often the fun part of buying a new PC.  The prices of monitors have dropped considerably over the last few years so you should be able to pick up the screen of your choice for a reasonable price.  If you intend to use your new computer for watching movies and doing a lot of reading we suggest that you purchase at least a 20″ screen.   If you decide to run Windows 8.1, you should also consider buying a touch-sensitive monitor.
Also remember that all versions of Windows support the use of two screens at the same time so you can use the old screen alongside the new one, it doesn't matter if they are different sizes.  If you want to save money and are happy with your existing monitor, then there is no need to purchase a new one.
Buying your PC online quite often provides you with the best deal price-wise.  However we suggest that you first visit a store or two to see if your chosen computer(s) are aesthetically pleasing to you.  When buying online we do caution you about purchasing second hand computers or laptops…
Buy a PC online?
Buying online also offers you the ability to customise your PC, you can add more Ram, upgrade the CPU and purchase additional software that you may need.  If on the other hand you can get a really great deal for a computer store (special offers or end of financial year sales etc), you could then take your new purchase to a computer repair shop to upgrade any components that you would like.
The warranty that comes with your chosen PC is very important – and the longer the better.  It is always possible to purchase a lemon like you can with a new car and if this should unfortunately happen to you, a good warranty could save you a lot of money and stress.
Don't get caught by up selling, this happens both in-store and online.  Stick to your guns and purchase only what you have decided you need rather than ending up with a costly machine with features you will never use.
Still not certain what PC is best for you and your family?
Want to ensure that the machine you buy has quality yet affordable components and is built to last?
Custom Built PC
We at Affordable Computer Repairs and Service can custom build a machine to meet your needs, selecting the parts which we know through experience will provide you with the best value for money in terms of durability and reliability.
Call us today to discuss your computer needs and usage and we will work with you to ensure that the machine you buy is exactly what you need and want.  Our custom built machines are not the cheapest on the market, they do however provide you excellent value for money as you can expect them to be long-lasting and should you require work done or upgrading as we know your machine you can be assured of a fast-cost effective service from us.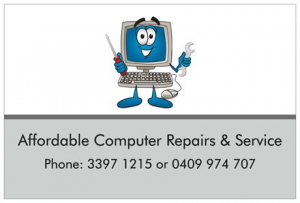 Tips on Buying a New PC for your Home