There are numerous dangerous things that you shouldn't do on the internet and most people don't realise how dangerous their online behaviour is.  Many people choose convenience over security and these leads to dangerous internet behaviour.  In this article we list the most common errors that people make, and the repercussions thereof.
Insufficient security of passwords
Some people still store their computer and other passwords next to their machines.  Even worse some still stick their passwords onto their computers or laptops.
Another dangerous thing that people do with their passwords is share them with friends and family – or even work colleagues.
Using the same password for all your online accounts means that if cybercriminals obtain your password then all your internet activity including banking online is subject to hacking.  Don't put all your eggs in one basket, keep different passwords for different purposes – and don't store them near your PC or Laptop.
Clicking on email attachments when you don't know the sender
Opening email attachments from unknown senders is a sure way to infect your computer with a virus or some other sort of malware.  Even with all the information out there letting people know how dangerous this action is, some still do it – in fact it has been said that this is the most common way of contracting viruses, worms, Trojan horses etc.
Installing free file-sharing applications
Downloading free file-sharing utilities that let you share documents, software, and music etc can also be dangerous as many of these applications contain viruses.
Not updating anti-virus software
It is essential that you keep your anti-virus software up-to-date.  If you get a message to do an update, click on it, it only takes a few minutes and will provide you with better protection as these updates include protection for new malware that has developed since your last update.
Disabling or turning off automated security tools
As firewalls and anti-virus programs can slow down a computer many users resort to turning this form of anti-virus protection off thereby opening their computer to all kinds of danger – particularly if they forget to turn it back on.
Assuming web links are safe to click on
Users often believe that if they are shopping, surfing etc on safe websites that they are then protected from any dangers.  This is not true, cybercriminals often target high traffic sites providing links to malicious web sites which can then store the users information or result in the user downloading viruses onto their computers.
Visiting free pornography websites
Free pornography websites are rife with malware – it's not a matter of if but when you will end up with a virus etc on your computer if you visit these sites.  You are much better off using paid sites rather than free websites as paid sites have better security.
Opening plain text or HTML messages from senders you don't know
Many people are aware of  the likelihood of obtaining a virus infection by opening email attachments.  However not many are aware that normal everyday text or HTML messages can also contain viruses.
Using free

wifi

and public computers
It can be dangerous to use free wifi that is available at coffee shops, parks and airports etc.  Once you are connected to the free wifi you are open to being hacked by other uses on the same wifi link.
If you do connect to free wifi using a public computer make sure that you sign off on the sites that you log into.  Also it is a good idea to delete your browser's history.  If you save passwords using a public computer, it could allow the another user to access your accounts.
Completing web registration pages
It can be very dangerous to type sensitive data into a web registration page dangerous.  You are also more likely to get hacked if you use the same username and password for most sites that you visit.
Leaving Facebook etc privacy setting open
This is a no brainer, you need to carefully check your privacy setting on Facebook and other social media to ensure that personal information is not available to cybercriminals who could use the information to impersonate you to obtain credit cards etc.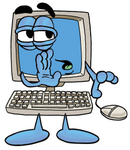 Dangerous things you shouldn't do on the Internet
48 Octantis Street, corner of Mars Street, Coorparoo
[gravityform id="1″ name="Contact"]
Please Share on Social Media