How to Start in Safe Mode Windows 10 and Windows 8 
With the advent of Windows 8, 8.1 and 10, Microsoft removed the helpful ability to use the F8 key to allow access to Safe Mode. What needs to be done to start in Safe Mode Windows 10 and both versions of Windows 8 is now made far more difficult. It is also far more time-consuming.
Boot into Safe Mode Windows 10 and 8
To start to get to Safe Mode, turn the computer on. When the blue windows logo appears and the maddening circle starts spinning towards the bottom of the screen, turn it off again.
Do this again and then again. It usually takes 3 goes to get to "Preparing Automatic Repair". Sometimes I have found it takes 4 goes. No matter what, just keep booting and turning off until "Preparing Automatic Repair" appears.
Safe Mode Windows 10 and 8 Blue Screen
A blue screen appears with white writing and Automatic Repair in large letters. Below it is wording which says that your PC did not start correctly.  There are two buttons, the first says "Restart" (completely pointless) and the second says "Advanced Options". Click the "Advanced Options" button which then gives you more choices.
Select Troubleshoot
Microsoft then asks you to "Choose an Option", which is helpful of them considering the only real "Option" is "Troubleshoot" as the other 2 are useless.  After choosing "Troubleshoot" you will then be taken to another screen with "Troubleshoot" and two further options. Choose "Advanced Options". Do not select "Reset this PC" as files and programs will be wiped.
Advanced Options
After choosing "Advanced Options" you will get a screen headed "Advanced Options" (as if we already didn't know) and you will have 6 options to choose from. Click on "Startup Settings"
Another screen appears headed "Startup Settings" and "Restart to change Windows options such as".  On the list of things is "Safe Mode". At this stage, there is only one button to click and that says "Restart" so click that and the PC will restart. This is what we want to do.
Restarting for Save Mode Windows 10
The PC will restart and a blue screen with white writing appears on reboot headed "Startup Settings". It then asks you to hit a number corresponding to the list on the screen. Choose "4 Enable Safe Mode" by hitting the number 4 on your keyboard.
The options of 5 and 6 give different Safe Mode options which you may want to consider depending on what you are trying to achieve. For most people option 4 is the best.
From then on the screen will change to the Windows logo and the spinning circle. Then the login screen will appear asking for a password if applicable. Eventually, a black background on the Desktop appears usually with your icons and Safe Mode in all four corners.
After that, you can undertake various functions. Some functions need to be run from the Command Prompt such as rstrui.exe which runs the System Restore program.
It is suggested that you should now back up your files if this has not already been done.
If you require further help or need computer repairs in Brisbane please call us at 3397 1215 or 0409 974 707.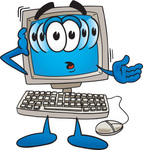 This article on how to start in Safe Mode Windows 10 and Windows 8 was written by Affordable Computer Repairs and Service in Brisbane.  If you are seeking laptop repairs or PC or Mac repairs please call us on 3397 1215 or 0409 974 707.