At Affordable Computer Repairs and Service we charge $190 for virus removal and thus following on from the previous post on how to avoid a malware infection,  we have written this second article providing some further additional tips on avoiding picking up a virus on your computer.
How to Avoid Picking Up a Virus or Other Form of Malware
Always remove your brower's temporary files – do this once a day.
Perform daily scans as a virus or spyware can escape anti virus programs.
Some virus which have attached to a drive automatically install themselves on any other media such as network drives, external hard disks and  thumb drives.  For this reason we recommend that you disable the Windows autorun feature.
We recommend that you use a hardware-based firewall over a soft-ware based on as these often result in problems when sharing printers and allowing users to access network resources.
Ensure you always receive updates by setting Windows Update to automatically download patches and upgrades. Doing this allows your computer to download all updates to both Internet Explorer and Windows. These updates fix security problems and also block many spyware programs and viruses. However it should be noted that viruses sometimes piggyback onto trusted updates – this is more likely to be outdated updates – it is therefore necessary to keep your updates as current as possible.
Many viruses work by attaching themselves to a drive and automatically installing themselves on any other media connected to the system. As a result, connecting any network drives, external hard disks, or even thumb drives to a system can result in the automatic propagation of such threats.
You should deploy DNS protection – you may need a computer technician to implement the switch but once deployed this will protect your computer from many spyware and other web-based malware.
Don't visit and download from sites that distribute illegal software, movies or music as these sites are known to contain viruses.
Watch out for unknown codesc – these enable a computer to play video or auto.  A common way of obtaining a malware infection is caused by the unsuspecting user following the prompt to download a codec to obtain sound for a downloaded movie.
Don't download anything that says it is free – these are likely to be a virus – as per the previous article you could google it together with the word spam to determine whether or not it is malware.
Virus Removal
No matter how careful you are, there is always the possibility of picking up a virus or spyware – should this happen, we can remove the virus for you (a process that takes several hours) for a fixed fee of $190, give us at Affordable Computer Repairs and Service in Brisbane a call on 3397 1215.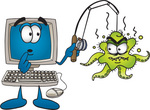 Please Share on Social Media