Do Macs Get Malware?
Unfortunately malware on Apple computers is now becoming far more common.  This article is provided by Affordable Computer Repairs in Brisbane who are experienced in Mac virus removal and hence knowledgeable about the ins and outs of Apple viruses and malware on Apple computers.
Are Mac's More Secure Than a Microsoft Windows Computer?
The Mac is generally considered safer and more secure than Microsoft Windows computers  and for a number of reasons as described below.
Firstly there are less malware writers likely to target a Mac because of the smaller market share of that platform, thus there is less occurrence of malware on Apple computers than on Windows machines. Also the fact that Mac OSX or now macOS is UNIX based (Berkeley Unix) which has a number of security features built in to it.  Apple has also included a number of security measures that can make a Mac more challenging to break into.
The likelihood of malware on Apple computers is protected as well by the latest is security, Gatekeeper which blocks any software that hasn't been digitally signed and approved by Apple from running on your Mac without your agreement.
Xprotect
Apple has a malware scanning tool called Xprotect which works with any OSX from 2009 with Snow Leopard (10.6) onwards.  This is a feature built into "File Quarantine".  When you open an application downloaded from the Internet using a "File Quarantine aware" program such as Safari, Chrome, Mail or iChat, you will see a warning message informing you that the application was downloaded from the web along with specific website information.
If Xproject does detect malware you will see a warning message that says running this file will damage your computer and informing you which malware definition it matches.  Make sure the default in the App store is checked "Install system data files and security updates" so that this program functions best to keep malware off Macs.
Safari Anti-Phishing Technology
There is also anti-phishing technology in Safari that will detect fraudulent websites. It will disable the page and display an alert warning you visit a suspect website. Plug-ins to Safari won't run if they aren't updated to the latest version (Adobe Flash, Silverlight, QuickTime, Java etc). This is another way of keeping you safe.
Recent 2017 Mac Malware Attacks
Many Mac viruses and Mac-specific attacks and malware on apple computers have been documented.
OSX/Dok which is a Trojan horse which could hijack all traffic entering and leaving a Mac without the user's knowledge. It even had a legitimate and valid developers' certificate. This Trojan worked via an email phishing campaign, so be aware of emails from people you don't know and with attachments.
Xagent is capable of stealing passwords, taking screen shots and getting iPhone backups stored on your Mac.
OSX/Pirrit was hidden in cracked versions of Microsoft Office or Adobe Photoshop found online. Once installed it gained root privileges and created a new account in order to install yet more software.
MacDownloader was found in a fake Adobe Flash update. When it was installed an alert claimed that there is adware on your Mac. It then wanted your password to remove said adware. The virus then transmitted data including you Keychain to a remote server. Keychain contains such items as: usernames, passwords, Pin numbers, credit card details etc)
Word macro virus (Microsoft Office programs such as Word, Excel, Powerpoint etc) when these macros are run automatically then the problems begin. As Apple in its release of 2011 Microsoft Office enabled macro support this has become an issue. The file has to be opened with macros enabled (which doesn't happen by default) it will then run a python code which runs keyloggers (logging key strokes) and takes screenshots.
FruitFly was first reported in January 2017 and it conducts surveillance taking screenshots and webcam images as well as looking for other devices on the network to exploit. According to Malwarebytes this attack has been going on since Yosemite released in 2014.
There have been many more recorded recently, look up KeRanger (Ransomeware),  Safari-Get  (mail is hijacked and the system is overloaded and the computer shuts down then forcing you to get help from a bogus Apple support number with a fee charged of course), Touch Bar hacks (Touch Bar display hijacked through a flaw in Safari which can let an intruder gain root control of macOS).
Mac Malware and Apple
Apple does not respond as quickly to threats as Mac users might hope, so it would be a smart idea to have some protection on the Internet.
There are many options such as free or paid and each should be looked into carefully, don't just grab the first one you find.
Another big question often asked is the program "Mackeeper" which is often thought of as unscrupulous. There are various reports that suggest it is a scam or at worst malware. Reports vary, but Mackeepers aggressive advertising and complaints that it is difficult to uninstall would suggest that it is one to keep away from.
So, make sure your Mac Firewall is on and configured correctly, don't install browser plug-ins, update you Operating System to the latest patches etc, avoid Java and Flash plug-ins, avoid Oracle Java Runtime if possible, if not then keep Adobe and Java up to date and avoid phishing emails. Lastly, don't go to dodgy websites and if you do don't download anything and get out ASAP.
Affordable Computer Repairs and Service
FYI we at Affordable Computer Repairs and Service do Apple repairs of all models and problems, so if you live in Brisbane and have a problem with your Apple Mac, please give us a call.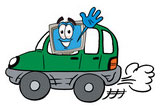 Please Share on Social Media