Virus and Malware Removal on your Apple Mac
You may never have experienced the impact of a computer virus or malware on your Apple MacBook Pro or MacBook Air or iMac, but you need to be a little cautious in accepting the old, often-repeated comment that Macs don't get viruses.  This is the mantra that many Apple Mac users and aficionados are happy to believe in and promote and whilst there continues to be some justification in that belief, the case for and against this argument isn't quite as clear-cut as it might first appear to be.   It's no longer the official line from Apple.
In our experience, here at Affordable Computer Repairs and Service, Macs can and sometimes do fall victim to different viruses and malware – but not to the same extent as MS Windows-based computers. The circumstances as to the how and why viruses and malware may affect your Mac can be numerous and varied, so it pays to know what steps you can take to avoid the problem and what you need to do in the unlikely event that this kind of problem strikes you.
Do you need Anti-virus / Anti-malware protection for your Mac?
Is your Apple Mac safe to use without needing an effective anti-virus/ anti-malware program installed?  Many people still seem to think so, whilst an increasing number of users are choosing to play it safe and install a third-party program like Norton Internet Security, Sophos or Avast, to name but a few.  This is a growing trend that can be evidenced by an increasing number of anti-virus, anti-malware and all-in-one AV applications that were once predominately Windows-only, but are now multi-platform (ie. MS Windows, MacOS and Android).
So what has suddenly changed?  This is literally a numbers game. The number of Windows-based computers far exceeds that of Apple Mac computers and so, makes a more viable and attractive target for cybercriminals in general, along with the fact that they are more vulnerable, easier to hack and thus make a more attractive target. However, as the market share of Apple Mac computers of all kinds steadily increases, the focus for criminals widens as this market becomes more attractive and viable.
Although the MacOS is not immune to hacking or exploits, it is arguably more secure than Windows 7, 8/ 8.1 or 10, largely due to the fact that it is a Unix-based operating system and employs App Sandbox which is a form access control technology (preventing applications from accessing parts of the operating system it doesn't need, so as to limit damage in the event of an exploit or security compromise).
MacOS Virus Protection
The MacOS has built-in features like GateKeeper, Malware Removal Tool (MRT) and XProtect  that run in the background to prevent malware threats and suspicious software from being installed.  These are regularly updated with software updates to the MacOS, including malware definition updates or XProtect and MRT.  However, independent testing by several sources has shown that these built-in security measures are not fool-proof, and that both XProtect and GateKeeper display varying degrees of effectiveness to do the job.  This means that you are well-advised to consider using some kind of third-party anti-virus or anti-malware software.  In addition to this, ensure you  also do the following:
Exercise a degree of caution and common sense when you are online and surfing the internet
Never open email attachments or other files that you have received from unknown or dubious sources & never reveal your personal information (like a drivers license and bank accounts) to dubious & unverified sources
Ensure that your Mac, and all your local and online accounts, are protected with strong passwords made up of at least 8 characters which should include numbers, letters (both upper and lower case) and special characters
Ensure your Mac's built-in firewall is enabled: System Preferences > Security > Firewall
Make sure "Open 'safe' files after downloading" is unchecked: Safari > Preferences > General
Disable Java in your browser: uncheck "Enable Java" in Safari > Preferences > Security
Keep your Mac and applications up to date at all times, and get those updates through the developers' sites or the App Store, not from any pop-ups that may appear while you are surfing the internet.  That includes web browsers like Google Chrome and Mozilla Firefox
Only ever install software from reputable and verified sites you know you can trust
Never install pirated software
How to Check for Viruses and Malware on your Mac
Do you get the feeling that your Mac has slowed down or feels slower than it did only a day or two ago, or that Safari no longer displays the correct home page, or your search engine looks and behaves differently than it did yesterday?  It pays to check that you aren't a victim of malicious software or computer hacking.
In April 2018, Macworld.co.uk published their guide and recommendations for the best Mac anti-virus (AV) programs you can buy.
Some of these products also offer free versions of their software which offer a full-featured version of their product for a limited time before you need to pay a subscription fee, or opt to use a cut cut-down version with some key features no longer enabled.  Chief amongst these being "real-time protection" and anti-ransomware / crypto-locker defense.
Strangely missing from the aforesaid article was a reference to Malwarebytes for Mac which we regard has a highly effective and very useful software tool.  We also find Avast to be another worthwhile AV option for you to consider, even as a free version.
What to do?  Simply download Install one of these programs, update to the latest virus/ malware definitions and run a scan of your system.
How to Remove Virus and Malware on your Mac
Hopefully, you will have one of these AV programs already installed on your computer and this program has found the virus, trojan, keylogger, or malware on your system as the result of running a full system scan.  At the completion of this step, ensure that your AV program then removes these items from your system.  In some cases, you may need to "instruct" your AV program to remove or "quarantine" these items to complete the process.
Even using the free versions of these anti-virus / anti-malware programs can be effective, but things don't end there.
Whether you are using Safari, Chrome, or Firefox, you still need to check the settings of these to ensure that they have been reset to their defaults or your customised settings – things like the home page, search engine, and proxy settings may have been hijacked.  Otherwise, you may find yourself repeating this whole malware detection and removal process very soon.
If all this sounds too difficult for you to cope with or you need further advice about this issue or anything Apple Mac related, contact us at Affordable Computer Repairs and Service.
PS If you live in Brisbane we offer a Mac Virus Removal service.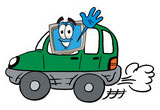 Please Share on Social Media