Virus or Spyware Infection
There are many different ways that your PC or Laptop can become infected with malware (commonly known as viruses or spyware).
Obviously you need to have malware protection on your computer – and keep it up-to-date.  However this will not completely ever protect your machine becoming infected.
Common Methods of Infection
The most common ways that a virus or spyware gets onto your computer is through one of the following means:-
Accepting without reading – this occurs when you accept what you see on the screen without reading the prompt or understanding what it's asking – always be careful.  This can occur when you are browsing the internet and a window appears that says that your machine is infected or that a new plug-in is needed – and you then accept the prompt.
Also when installing or updating a program you may be prompted to install additional programs (often the check boxes are already checked!)
Opening e-mail attachments – these attachments may even come from friends, family members or a co-worker.  Sometime email addresses are also faked.  Watch out – when receiving an e-mail and attachment, if the e-mail was not expected or from someone you don't know delete it.
Pirating software, music, or movies – this is a very common way of obtaining a malware infection on your computer.  If you are participation in underground places on the net downloading copyrighted movies, music or files for free, often many of the files contain viruses or spyware..
Downloading infected software – when downloading any software from the net this can also cause viruses and other malware infections. When downloading programs, utilities, games, updates, demos, etc., you need to make sure you're downloading from a reliable source.  Also while installing the software make sure you are reading all prompts carefully.
Not running the latest updates – as mentioned before you need to keep your anti-virus software up-to-date.  Many updates, especially those associated with Microsoft Windows are security updates and you need to click onto the update to ensure you have the highest level of current protection for your machine.
No antivirus spyware scanner – again as previously mentioned you need to ensure your machine is protected as best it can and this includes having some form of antivirus and spyware protection to help clean the machine from current infections and prevent future infections.
Removing a Virus or Spyware Infection
Finally, if you are still unlucky and manage to obtain a virus or spyware infection on your PC or Laptop that you can't get rid of, just give us a call (3397 1215) as we have a great deal of experience in cleaning your machine without any loss of your valuable files and those invaluable photos.
Affordable Computer Repairs and Service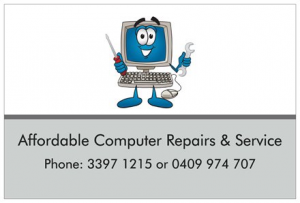 Please Share on Social Media