E-Waste Computers and Technology in Australia
How Have We Become a Throw-away Society?
A hundred years ago, a typical household's waste consisted mostly of food scraps and coal ash.  Most items were made out of natural materials like paper, wood, coal, leather and metal and were often recycled and reused once they reached their 'end of life'.
Today our households look very different.  A number of factors have brought about this change including the advent of mass production, product and brand advertising, more affordable and disposable items and a time-poor society.  The culmination of these factors has resulted in a 'throw-away' society where consumers tend to dispose of their unwanted goods and 'buy a new one' rather than repairing their old item.  This occurs in many different markets including computer repair.  In some cases, it may be cheaper to buy new rather than get the old item fixed.  Consumers are also increasingly making choices that are convenient and that saves time.  Buying new is often perceived to be 'easier' than finding a skilled repairer to fix the item.  The unknown costs of repairs (is it worth it?) also influence decision-making.
With technology evolving at a rapid rate, consumers rarely consider the implications of disposing of their old electronic items as they upgrade to the latest phone, tablet or computer.
Australians are in fact one of the world's highest users of technology and e-waste is one of the fastest growing types of waste.
What Is E-Waste?
E-waste is a term used to describe electronic items such as computers, televisions, dvd players, computers, phones, tablets, household appliances, etc.that are no longer wanted or no longer useful.
E-waste computers and televisions in particular are a growing component of the electronic waste problem.
Key Facts On E-Waste Computers
Computers are substantially contributing to e-waste.  The following facts focus on the computer component of e-waste and are sourced from the Australian Bureau of Statistics (ABS), Clean Up Australia and the Department of the Environment:
Up to 2008, it was estimated that there were 37 million computers in landfill.
Only 1.5 million of the 15.7 million computers that reached their 'end of life' in Australia in 2007-08 were recycled (less than 10%).
An estimated 29 million televisions and computers across Australia reached their end-of-life in the 2011-12 period.
The cumulative volume of computers and televisions reaching the end of their useful life is expected to reach 181,000 tonnes or 44 million units by 2027-28.
Australians buy more than 4 million computers annually.
The Responsible Disposal Of  E-Waste Computers Is A Growing Issue
The disposal of e-waste computers and other unwanted electronic devices in an environmentally responsible manner is becoming an increasingly important issue.  The rising consumption of raw materials, limited landfill space and the disposal of hazardous substances in areas where they could leach into soil and water has brought about the need for responsible measures to be put into place.
Unwanted electrical items contain valuable materials that can be recycled and re-used such as gold, steel, copper, zinc, aluminium and brass.  According to the US Electronics TakeBack Coalition, the amount of gold recovered from one tonne of electronic scrap from personal computers is more than that recovered from seventeen tonnes of gold ore!
While valuable materials can be recovered from electronic products, they can also contain hazardous materials such as lead, cadmium and mercury which are toxic to humans and the environment when incorrectly disposed of.
What Are We Doing About It?
An international treaty that manages the international movement of hazardous waste was introduced in 1992, named the Basal Convention.  Designed to reduce and regulate the movement of hazardous waste, over 170 countries have joined the convention.  Australia signed up in 1992.
What Can You Do?
There are a number of waste management schemes across Australia for e-waste.  In Brisbane City you cannot simply dispose of your electronic products in your wheelie bin.  The Council does accept e-waste computers and other types of e-waste at their transfer stations, with residents allowed to dispose of 15 items free of charge as part of the National Television and Computer Recycling Scheme (NTCRS).  See here for more information:
The NTCRS is funded and managed by the television and computer industries and enables people to drop off their unwanted e-waste products for free.  It is hoped that this scheme increases the recycling rate of electronic products.  Other e-waste management schemes include:
Mobilemuster – mobile phone recycling;
Planet Ark – television, computer and printer cartridge recycling; and
Australian Battery Recycling Initiative.
E-Waste Computers and Computer Equipment
As a computer repair business in Brisbane we witness first hand the growing level of e-waste computers and computer peripherals, components and computers.  Affordable Computer Repairs and Service is an environmentally friendly business we dispose of all e-waste computer and technology equipment in the correct manner.  Furthermore we hope that our low $75 diagnostic service help to reduce e-waste.
This diagnostic service allows you to make an informed decision as to whether or not you should have your computer repaired of if indeed it is time to purchase a new laptop. PC or Mac.  For the $75 fee we will examine your computer and identify the reason(s) for its failure of poor performance.  Then advise you as to whether in we believe it is cost-effective for you to have it repaired.  This recommendation will be made based upon the cost of any replacement parts, the labour time required and the age and condition of other components of your computer as well as the likely replacement cost.
We will provide you with a repair quote including the labour time and price of new components if they are required.  Our diagnostic fee only applies if you decide you do not want to have your computer repaired.  Once we have given you a quote to have your computer repaired, that is the fee that is charged.  We do not charge the additional $75 on top of the quoted repair fee.
We also hope that by providing honest, trustworthy and skilled computer repairs individuals and businesses once they have experienced our service will  not have again the difficulty of finding a skilled computer repair business.  Thus we hope that they will be more likely to repair their machines (if cost-effective) rather than take the often perceived quick and easy route of just purchasing a new computer and adding their older machine to the growing pile of e-waste or disposing of it correctly but not possibly it is not necessary to dispose of in the first instance as it may be that computer repair is a better option.
Please note whilst we too wish to reduce the amount of e-waste that we as Australian's generate, we would never recommend repairing a computer unless it is cost-effective and in the customer's best interests.  We have an excellent reputation in relation to honest and informed advice and thus you can be certain that we will provide you with the same.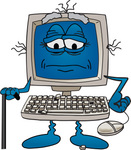 Please dispose of your e-waste computers responsibly.
Author, Mark at Affordable Computer Repairs and Service