Sales of Macs and PCs – Apple Macs Increasing Popularity?
We are a computer repair business based in Brisbane and a great deal of our repair business is Mac repairs.  Thus, it is very much in our interest to keep current as to the trends in the popularity of different types of computers, Windows and Macs, laptops and desktops etc.
Hence we have looked at some information to seek whether or not Apple Macs are increasing in popularity and data from various different sources indicate that this seems to be the case.
Information released by the IDC for the June quarter of 2015 stated that sales of Apple Macs had increased by 16% whilst all other major PC brands experienced a decline in market share.
Furthermore, IDC results show that the PC market overall declined by 12% in terms of sales for that period.
Previous research has also shown that sales of Windows-based PC are declining by around 10 to 12% a year. Whilst contrary to this decline, Apple Macs have been experiencing continued growth in sales and increasing popularity.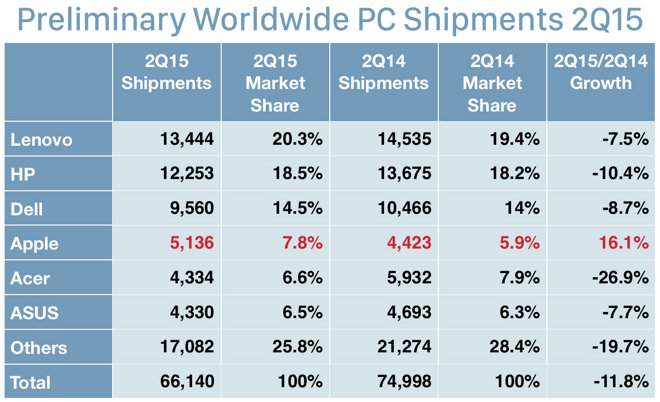 Source: IDC
A Bit of History of Mac and PC Computer Sales
According to Asymco, the ratio of PC sales to Macs was about twenty to one in 1985 soon after the release of Apple Macs.    Apparently the ratio of PCs to Macs in terms of sales then moved up and down for the next ten plus years.  The popularity of PCs was demonstrated when according to Asymco the ration reached fifty-five to one in 2004.  This, however, was the peak with the ratio then reflecting the growing number of Mac sales, year on year.  Finally, after reaching a peak in 2004 the ratio then fell down to twenty to one in 2012 and further falls have happened since.
Operating Systems Market Share
Whilst there is no disputing that sales are trending towards Apple Macs, Windows still remains by far the most used operating system.  The information below comes from NETMARKETSHARE who provide market share statistics for internet technologies.  This information dated April 2016 is for the period from January 2016.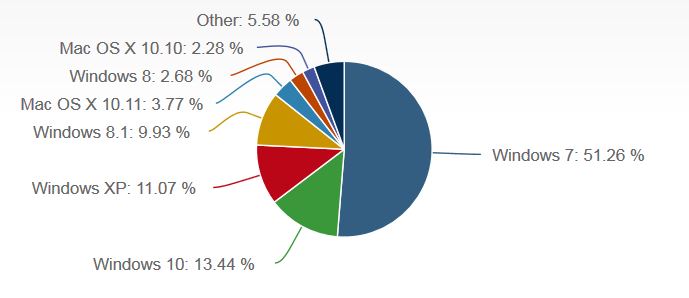 Source: NETMARKETSHARE
According to this data Windows 7 is still by far the most popular operating system (51% of users) followed by Windows 10 with 13% of users.  Windows XP although no longer supported is still used by 11%.
Mac operating systems whilst strong are still far behind Windows with Mac OS X 10.11 used by 3%, Mac OS X 10.10 by 2%and other forms of Mac OS combined used by 2%.
The above data is similar to the estimates provided by StatCounter.   This data relates to desktop and laptop computers only.  StatCounter reveals that once again Windows 7 is the most common operating system (45% of users), followed by Windows 10 (18%) and Windows 8.1 (10%) with Windows XP having 7%.  All OS X versions according to this source of information are used by almost 10% of users.
Growth in other Devices
Whilst Mac desktops and notebooks are increasing in popularity the overall market for Apple has seen a large amount of growth due to sales in other devices such as iPads and iPhones.
Tablets and mobile phones are becoming more and more popular.  A survey conducted by AIMIA in 2014 found that of those surveyed 89% (Australians) owned a smartphone.  In addition, 60% owned a tablet and a significant 53% owned a smartphone, a PC and a tablet.
Demonstrating the growing popularity of mobile devices, the AIMIA survey revealed that of all the Australian respondents surveyed over 60% stated that they would choose their mobile phone over their television.  Also, they found that 66% of Australians use their smartphone at least once a day to search or browse on the internet.
For more information regarding Australian usage of mobile phones visit Snakkmedia or the Australian Bureau of Statistics.
Article Source
The information in this article 'Apple Macs Increasing Popularity' has been taken from the web and may not be 100% accurate.  This article has been written by Affordable Computer Repairs and Service and if you are looking for Mac, PC or laptop repairs and you live in Brisbane, please give us a call on 3397 1215.