Zoom Misleading Claims
Zoom is the latest IT company in the news for "misleading" their clients.
Well, with nearly everyone jumping on the "work at home" opportunity and making all those vital Skype, Zoom or FaceTime conferencing calls every day that help keep the World spinning, it would appear that Zoom has not actually been factual with us.  Zoom purported that their platform was encrypted from end-to-end.  However, a new report has revealed it isn't. At the time of writing 04/04/2020 this is a page from Zoom's websiteh says and I quote: Heading – "Meet Securely" it goes on to say and I again quote: "End-to-end encryption for all meetings, role-based user security, password protection, waiting rooms and place attendee on hold".  Apparently there is a White Paper on this "end-to- end" security with encryption as well when using Zoom.
Conferencing Calls – Work From Home
With Zoom enjoying massive growth in popularity due to the "stay at home" orders from many Governments around the World the thought that your "private" conversations aren't actually "private" when using Zoom is rather disconcerting.  If the conversations were "private" then they would not be able to be accessed by Zoom the company at all. But a new report from "The Intercept" webpage suggests otherwise. Paraphrasing what they said, Zoom's definition of "end-to-end encryption" seems to differ from what most ordinary people would define as "end-to-end encryption".
Statement From Zoom
In a statement from Zoom, they said that it does not directly access, mine or sell user data, that's nice to know but I have heard that one before. Oh that's right! Facebook! They never sold your data! They just gave it away! Now I remember! As a reminder please refresh your memory on that fiasco here: https://www.theatlantic.com/technology/archive/2018/12/facebooks-failures-and-also-its-problems-leaking-data/578599/
Encryption and Privacy
Without "end-to-end" encryption, Zoom has the technical ability, whether it does so or not, to spy on your private video meetings and may be forced to hand over that data to Government agencies (read here USA agencies – CIA, FBI, Homeland Security, NSA etc etc etc) in response to legal requests from those agencies. Other well-known IT companies who have been working with USA agencies for years such as Microsoft, Facebook, Google to name a few, publish "transparency reports" that describe exactly how many Government requests they get for the data and how they comply to them. Not so with Zoom, as it does not, as yet, publish its own "transparency report".
It could be argued that Zoom's marketing department, and therefor Zoom the company itself have failed to properly describe what Zoom is. This would be considered in the US of A as an "unfair or deceptive trade practice" that would run into trouble with the US Federal Trade Commission or should do. Claiming that my product "scratches your back in the bath" and when that said product then fails to do so is deceptive advertising, as you would agree. Anyone wanting to make private or business contact communications with another person or persons would, as an average person would, read "encrypted end-to-end communications" and how "secure Zoom was" as stated above, would then assume correctly in most cases, that Zoom would deliver that promise. It plainly does not.
I would like to thank "The Intercept" for the information for this article and any inconsistencies or faults are mine, not theirs. This information is not "fake news" and as "The Intercept" says on their website "how likely would the above information be published by a different news outlet?"
We at Affordable Computer Repairs and Service are able to maintain social distancing and still remain open for business, so if you are looking for computer repairs in Brisbane during the Coronavirus outbreak, please give us a call.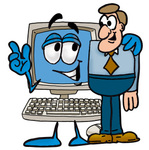 This article was written on 6 April 2020 and the opinions above, are just that opinions, we do not claim them to be fact, only opinions.