Three Years On with Windows 10
Be aware that you may experience Windows 10 Update Problems
(… and be sure to take a few simple steps to minimise the risk of downtime and data loss as a result of Windows 10 update problems)
Almost three years after its launch and some users of Microsoft's Windows 10 operating system appear to remain affected by update problems at various times. In our experience, Windows 10 update problems have for some consumers resulted in inconvenience and lost productivity, and not necessarily the kinds of problems that can be easily resolved. Unlike earlier versions of the Windows operating system – where you were able to turn off, postpone or had the discretion which updates or "patches" to install or not – this no longer the case with Windows 10, although the Professional version allows you a degree of flexibility and user control compared to the more common and less expensive Home version.
Launch of Windows 10
Microsoft's public launch of Windows 10 (Version 1507, the first release is known also as Threshold 1) occurred on 01 August 2015 with the promise of the best Windows ever. Unfortunately (in our experience) we can't remember when an "update" for the "best Windows ever" hasn't resulted in numerous phone calls to us from desperate and frustrated computer users seeking help after their computer has failed start correctly or Windows has failed to boot. Of course, previous versions of Windows have had their share of problems as well, but given the hype, the spin and all the positive reviews for this product (Windows 10) in the last few years, we all expected better.
You may have acquired your copy of Windows 10 by opting to accept Microsoft's offer of a free upgrade from Windows 7 or Windows 8.1, or through the purchase of a new computer.
Windows 10 Update Problems
Since that momentous day in August 2015, we have had to navigate a range of major Windows 10 updates (and correspondingly Windows 10 update problems) in the form of Versions 1511, 1607, 1703, 1709 and 1803 with names like November Update, Anniversary Update, Creators Update, Fall Creators Update, April 2018 Update respectively and it seems that never a day goes by when someone hasn't been denied use if their computer by Microsoft and their seemingly perplexing "update policy". We don't remember Windows XP, Windows Vista (which was widely derided at the time and in hindsight, unfairly so), Windows 7 (the pinnacle), Windows 8 and 8.1 (with a less than successful interface, but otherwise a decent system) having these same issues. Yes, of course, there were minor glitches in all of them and they all had their idiosyncrasies which weren't resolved until the release of the first Service Pack, etc, but nothing seems to match Windows 10 and the problems associated with it and it's updates up to now.
Even the numerous pro-Microsoft reviewers who gave it the thumbs-up (and continue to promote it in glowing terms) must by now be finding it difficult to keep extolling the virtues of Windows 10 against all the problems caused by the many Windows 10 update problems and remain positive.
Our Advice Regarding Windows 10
The message here is not to be in too much of a hurry to retire or replace that "old" Windows 7 or Windows 8.1 system unless you have to. Microsoft's Extended Support for both of these products ends in early-January 2020 and 2023 respectively. It's a fair bet that you will be able to keep your computer running quite happily for a time after those dates, but it's equally likely that those systems will experience serious hardware failure – due to age – and will need to be replaced by then anyway.
From now on, any computer you buy – even a custom-built desktop, like a gaming computer – will come pre-loaded with Windows 10, unless of course, you decide to make the switch to MacOS or one of the many different open-source versions or "distros" of the Linux OS.
For your next purchase, seriously consider buying a system with Windows 10 Professional (or upgrading from the Home version). That way you get back a little bit of control as to when you choose to update the system. In case it all goes wrong, you won't get caught out when working on that important document.  This doesn't, however, mean that you are safe from Windows 10 update problems.
Backup and System Restore Points
Lastly, remember to back up your files and personal data (documents, photos, etc) regularly, and ensure you create some system restore points regularly. If you're not sure how to do this or have questions about other Windows 10 related issues, contact us at Affordable Computer Repairs and Service on 3397 1215 or 0409 974 707.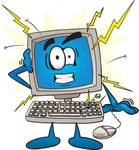 FYI We provide a Managed IT Service for Brisbane businesses, this service provides security, reliability and reduces downtime – as part of our Managed IT Service. If you wanted to roll out Windows 10, we would assist this process and explain the advantages and disadvantages to ensure that your business runs as smooth with Windows 10 as other versions of this software.