It can be extremely frustrating when you suddenly find that your mouse won't work. Unless you have laptop/Mac with a track pad you are completely stuck and unable to work/play on your computer.
There are lots of reasons why you mouse suddenly stops working – and fortunately most are a quick fix. So try out the options provided below and hopefully you will be up and running again quickly.
First Time Use
If this is the first time that you are using your mouse and it's not performing properly it maybe that you need to download a driver. Go to the website for the manufacturer of your mouse and check if a driver is needed.   More often than not you can download these for free.
Battery
Try replacing the batteries, most mice contain AA or AAA batteries which you can buy at your local supermarket. After a while the batteries in your mouse do run down and a simple replacement may be the answer to your problem. Stating the really obvious, make sure that you replace the batteries in the correct way around and close the little door securely. To put the batteries in the right way, look for the positive symbol which is a plus sign+, this will be imprinted within the compartment or on the battery cover.
Worn
If you mouse has seen a lot of use and is now not clicking properly, it's simply that it has become worn down. This can be fixed, just Google it and you will suggestions on how to repair it. It is not worth taking to a computer repair business as it would be more cost-effective to purchase yourself a new mouse.
Surface
Have you changed the surface that you are using your mouse on? Some older mice will not work on certain surfaces such as glass. The simple remedy maybe to use a mouse pad.
USB Port
Another easy potential solution to a mouse not working is a defective USB port. Just unplug your mouse and plug it into a different USB port and this could be the answer to your problem.
Multi-Card Reader
It could be that your multi-card reader is defective; to determine if this is the issue plug the mouse directly into a USB port.
Clean
A sign that your mouse is dirty and needs a clean is if your pointer moves in a jerky manner or is less responsive than it used to be. Cleaning your mouse is simple whether it is a wired or wireless mouse.
Pairing
When using a Bluetooth mouse it needs to be paired properly. To find out how to do this surf the net and you will find lots of information on this topic.
Buy a New Mouse
If none of the simple solutions presented above and your mouse has seen better days it may be time to purchase a new mouse. Mice are relatively inexpensive now and there is a wide variety available from computer parts stores, small appliance stores, on the net and if you are lucky your local supermarket. There are some really groovy mice available, particularly on the web so it might be time to make a fashion statement!
At Affordable Computer Repairs and Service we guarantee you will be more than satisfied with both our expertise and our repair and IT service rates.
We are a Brisbane based computer repair business, our address is 48 Octantis Street in Coorparoo, Brisbane.  The majority of the work we do is undertaken in our workshop as we have found most customers prefer not to have a technician come to their home and find it more convenient to deliver their defective computer(s) to us. We do request that you do the courtesy of calling us prior to arriving at our office.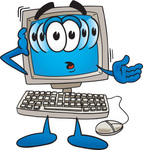 Why won't my Mouse Work? Article by Affordable Computer Repairs and Service