Ways to Speed Up your PC
The hard disk is full
Over time more and more programs and applications are loaded onto your computer and not surprisingly, the computer starts to slow up. You need to delete any unwanted programs and files to free up space on the hard disk. The control panel lists all the programs on your machine and you can select unwanted programs from here to be deleted.
Also, you should remove all temporary internet files and other files which are listed in the Windows Temp directory on the C drive.
Malware
A virus or spyware may be the cause of a slow computer. It is vital that your virus software is kept up to date and that it is running properly. If this hasn't been the case, perform a scan and delete any malware that might be infecting your PC. Also, if you have two antivirus programs running at the same time, this causes conflict and can significantly slow your computer – delete one of the programs. If you have a particularly malicious virus that you can't remove, give us a call at Affordable Computer Repairs and Service and for a fixed fee of $190 we will remove it for you and provide some additional protection.
Display
In older machines, which have an old graphics card, it is a good idea to adjust the display settings.
Defrag
It may be that the data on your hard disk is fragmented and you need to run a defrag. It is important that all your programs are closed before you undertake a defrag. Click on the Start menu, select Programs, Accessories, System Tools then click on the Disk Defragmenter icon. Defragging your machine is time-consuming so expect to not be able to use your machine for quite some time – it is suggested that you run this application overnight.
CPU
If the CPU is getting overheated it may slow down to prevent overheating.
Browsers
Different web browsers perform differently sometimes the solution is just to change the web browser that you are using.
Add more Memory
Adding more RAM to your machine is a cost-effective way to increase the speed of your machine. Please call us at Affordable Computer Repairs and Service and we can do this for you at an affordable rate.
Speed up Start-Up
The more programs you have an opening at startup the slower your machine will boot. You should disable those programs which are not utilised frequently – run MSConfig and withdraw applications in the Home tab. You should also disable all indexing and accessories of the internet.
Hard Drive
It may be an idea to upgrade to a faster hard drive.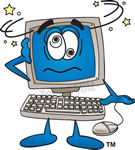 Please Share on Social Media