History of the Internet…Some interesting facts about the internet in its early days…
The internet was originally a military experiment in the 1960's.
The first message ever relayed over the internet was "LOG" which was supposed to have been "LOGIN"  however there was a huge crash and the task couldn't be completed.
The World Wide Web was launched 25 years ago.
The first domain name ever registered was Symbolics.com.
The first website to go online was in August 1991 – http://info.cern.ch.
The phrase "World Wide Web" was coined by Tim Berners-Lee in 1990.
Up until the 14th of September in 1995, domain registration was free.
Mosaic was the first popular web browser and was released in 1993.
The first internet banner ad was launched in 1994.
U.S. President Bill Clinton's inauguration in January 1997 was the first to be webcast.
The reason the Google home page is so bare, is because the founders didn't know HTML and just wanted a quick interface. In fact, the submit button was a later addition.  Initially hitting the RETURN key was the means of starting Google.
In 1996 the first storage device was built for Google, it had a capacity of 40GB and was built-in an enclosure made of Lego bricks.  Google at the time was still a research project and had a small budget, hence the lego bricks.
Note:  This information has been sourced from multiple locations on the net and may not be 100% accurate.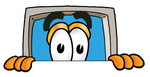 Affordable Computer Repairs and Service is located at 48 Octantis Street, on the corner of Mars Street in Coorparoo, Brisbane.
Office entrance is off Mars Street, we have a home office and the office is on the bottom level of our home.  You will be coming to a three level grey building, entrance to the office is clearly signed.
Please always call us before you leave as there are a few instances whereby we are called out on emergency repairs.  If you call ahead we will ensure that the office is manned and we are ready for your arrival.