Easy Way to Use Teamviewer
Teamviewer is an excellent piece of software to enable a connection from your computer to another computer anywhere in the World as long as it is on the Internet. It is easy to use and easy to install.  The instructions below are clearly written for those that are looking for an easy way to use Teamviewer.
Version of Teamviewer
Before starting, both computers must have the same version of Teamviewer on them. Older versions of Teamviewer will not connect to newer version. If you try and connect and find it is not working (after checking both computers are indeed on the Internet) then uninstall the older version and download and install a newer version.
Current Version of Teamviewer
The current version of Teamviewer (April 2017) is version 12 and it can be found from Teamviewer's website:
https://www.teamviewer.com/en/
Always go directly to the manufacturers or makers website never ever use cnet, softpedia and other such websites as they are only displaying versions you may not want.
Download Teamviewer
Download Teamviewer on both computers if not already there.
Teamviwer states: "It's free for personal use or as a trial version for business users". So if Aunty May or Grandma needs the occasional assistance, don't jump in the car but use Teamviewer instead.
Teamviewer Program Screen
Below is the program screen you will see after starting Teamviewer. You will have an ID.  In this case the ID is 123 456 789 and password is 726qdb.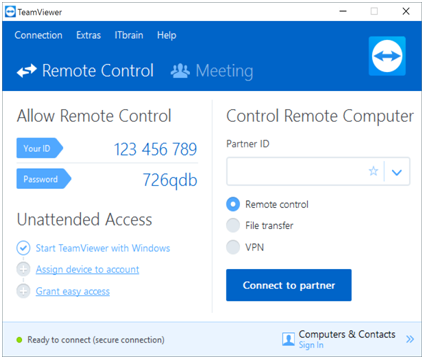 Easy Way to Use Team Viewer
To communicate you need your "Partner ID" which is Aunty May's ID. Type that in and then the program asks for the password again from Aunty May. Type that in and the program connects.
In this example Aunty May would give you the information below, which you type into your Teamviewer on your computer.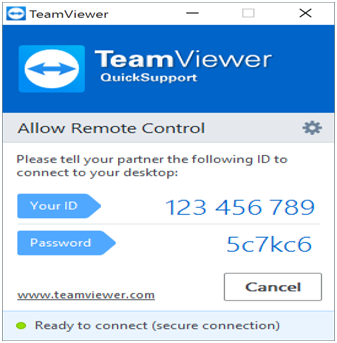 Use Team Viewer
After connecting you can move the mouse on Aunty May's computer and type whatever is needed. Tell Aunty May not to touch her keyboard when you are running remotely. So when the connection is made you can explain and show and run whatever is needed to be done. Anything physical such as plugging cables in etc would need to be done by Aunty May, of course.
Help to Connect to Team Viewer
I find it useful to be on the phone for all or part of the time as talking and showing helps explain things. Being on the phone for the initial connection is just about vital as an old password that you used to connect to Aunty May yesterday will not work today. The ID stays the same but the password changes often.
So there you have it, the easy way to use Teamviewer. So next time Aunty May is trying to explain something which has gone wrong with her computer in terms that make no sense at all, save your time (and temper/patience) and connect with Teamviewer instead.