Dangers of Portable Hard Drives – We have had so many jobs lately from desperate customers needing to recover data, treasured photographs, work files, assignments, YouTube videos etc from failed portable hard drives that we thought we should inform our customers of the dangers of relying on these devices.
Firstly backing up onto a portable hard driver is not sufficient.  You always need to back up on two different devices – be it a second portable hard drive, a USB flash drive, another hard drive located in a separate partition on your computer or by using an online or cloud back up service.
Backing up on one portable hard drive does not protect you from loss of data…
Portable hard drives need to be handled with care.  This is especially so whilst they are powered and backing up your data.  For example:
A knock, drop or spill on your portable hard drive could mean the loss of everything on the drive; and
Just any other device, portable hard drives can fail of their own accord.
With portable hard drives, you get what you pay for.  Do not buy the cheapest drive available, you are only asking for trouble.
You are welcome to bring your non-functioning portable drive to us as we offer a hard drive recovery service – and we will do this for an affordable rate.
If however the drive is too badly damaged for us to be able to recover your data, your only other option is to go to a Commercial Data Recovery Specialist or Laboratory where they have Clean Room facilities (they even wear white lab coats and masks!)  If the drive is badly damaged they may need to disassemble the hard drive itself in order to recover all or part of your data.  The catch is that their data recovery prices usually start at around $800 and can go into the thousands!
We have also had unfortunate customers who have backed up several computers with years of invaluable data onto a single portable hard drive – and then deleted all that data from their PC or Laptop – only to have the portable drive fail on them!  So while they were trying to do the right thing and ensure their files and photographs, music, videos etc are safely stored, they find themselves looking at an expensive solution or no solution at all!
Always back up your data on two devices.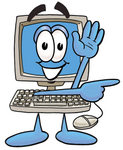 Affordable Computer Repairs and Service is located at 48 Octantis Street on the corner of Mars Street in Coorparoo.  We have a home office on the bottom level of our house, the entrance to the office is off Mars Street, is it clearly signed.
Our business hours are from eight in the morning through to six at night, Monday through to Saturday.  We do ask that you call us first so that we can discuss your problem over the phone and provide you with some advice before you bring your portable hard drive or computer to us.
We also offer a mobile service for customers within our Mobile Service Area.  We do not charge call out fees or travel time to your place of work or home from our business located in Coorparoo.