Do You Know The Following Surprising Internet Facts?
The Internet weights as much as one strawberry.
Online dating generates over one billion dollars each year.
About a third of all internet searches are for pornography.  Furthermore, around 65% of all pictures on the net are of naked women – at any given time there are about 28,000 internet users watching X rated videos.
About 50% of all downloading and uploading online is file sharing that is often considered illegal.
Every month, over a billion people watch videos on YouTube which averages 4 hours each per month.
Bill Gates was reported to have said in the 1990's that an Internet browser was 'a trivial piece of software'.  However he later launched the most famous web browser – Internet Explorer.
We all know Google which is now the most visited website, but did you know that ten years ago it was Myspace and AOL that was making history.
You can fit the whole Internet on just 200 million Blu-Ray disks.
Of the 2 billion+ people who connect to the Internet, only 450 million of them speak English.
There are approximately 11 countries in the world who still do not access to the Internet.
Note:  This these surprising internet facts have been sourced from multiple locations on the net and may not be 100% accurate.
Affordable Computer Repairs and Service is a family owned and run business based in Coorparoo, Brisbane. We successfully repair and upgrade desktop computers, laptops and all Apple Macs. We also offer a full range of other IT Services.
Visit our office and workshop at 48 Octantis St, we are on the corner of Octantis Street and Mars Street.
The entrance to the office is off Mars Street and is clearly signed. The office and workshop is the bottom level of our home, so you will be coming to a three storey residential building.
Our office hours are 8am to 6pm Monday to Saturday. We always appreciate a call before you bring your non-operating machine to us.
We also offer a Mobile Repair Service to residents and businesses within the inner northern and southern suburbs of Brisbane.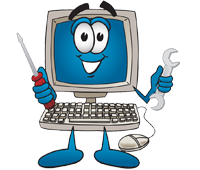 Surprising Internet Facts
Please Share on Social Media