Computer Repairs Dutton Park
Computer Repairs Dutton Park – We repair computers and provide IT solutions for residents and small businesses in Dutton Park.  We offer both a mobile and workshop repair service.  We are locally located just 12 minutes away at 48 Octantis Street in Coorparoo.
Being a locally based business we can provide speedy and affordable repairs and services to your PC, Laptop or Mac.  Our rates are competitive and our service level very high, we believe in not only repairing computers but ensuring that customers trust our service and are happy to return if needed in the future.
Don't take this just from us, please read our customer reviews and you can be sure that your computer and valuable files and photos are in the right hands.
Computer Repairs Dutton Park
Being a locally based business does not mean that we cannot provide you with the full range of services as the larger chains do, and we do it more affordably with a friendly service, you will always know who you are dealing with each time you engage our services.
A full description of our experience and expertise is listed under the Services Tab, a summary of customers most common needs is as follows:-
Computer fails at start-up
Blank screen
Internet dropped out or installation required
Email failure
Printer configuration problems
Frequent crashes
Lines across the screen or part of the screen blanked out
Need a new PC, we can build one to your particular needs at an affordable rate using quality parts – comes with a guarantee
Remember we are trustworthy, reliable, experienced and only 12 minutes away.
Examples of the high level of service we provide include the following:-
Affordable $75 diagnosis fee, only applicable if you decide not to repair your machine
Affordable repair fee of $125 an hour (parts if required are extra)
No call out fees
No one hour minimum charge
Free advice.
Affordable Computer Repairs and Service are experienced in software and hardware problems, no job is to big or too small.
Call us today on 33971215, we are open 6 days a week and do not charge penalty rates for after hours or weekend jobs.
We look forward to hearing from you and turning you into one of our many satisfied customers.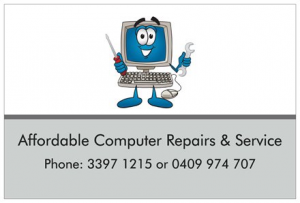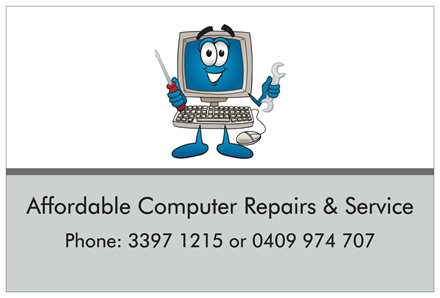 Computer Repairs Dutton Park