Computer Repairs Bulimba
Are you in need of computer repairs in Bulimba?
Let us at Affordable Computer Repairs and Service assist you in getting your machine back up and running. We are only 15 minutes away locally based in Coorparoo and can provide low-cost effective IT solutions for residents and small businesses in Bulimba.
We offer a mobile service to Bulimba or alternatively you are very welcome to drop-off your machine to our office/workshop in Coorparoo. Please telephone before you leave so we can be prepared for you.
We have a great deal of experience in computer repairs and IT issues and work at a competitive price.  We repair and service all machines, PCs, Laptops and Macs – all brands, makes and models.
Computer Repairs Bulimba
Why choose us?
An affordable repair fee of $150 per hour and no minimum charge.
Provide friendly and professional service without the IT jargon.
Believe in building a strong relationship with our clients, allowing us to provide them with the services that they need.
We are experienced in fixing all kinds of computer problems, quickly, expertly and inexpensively.
Why call us?
Can't connect to the internet?
Wireless network not working?
Your computer is running slow?
Your computer is frozen?
Need an upgrade?
Want a new PC built to your particular computing needs?
Computer repeatedly rebooting?
Need independent professional advice?
Want services convenient for you? – We are only 15 minutes from Bulimba!
We stand by our repairs and services and many of our clients swear by our work. Come and find out why everyone trusts us to repair their computers. We understand that you don't want to be without your computer for very long and do our utmost to repair your machine as quickly as possible. We will always keep you informed throughout the repair process.
If you need computer repairs in Bulimba, look no further than Affordable Computer Repairs and Service. Call us on 3397 1215 or 0409 974 707 today and give us the opportunity to add another satisfied customer to our client base. Remember, we are only 15 minutes from Bulimba.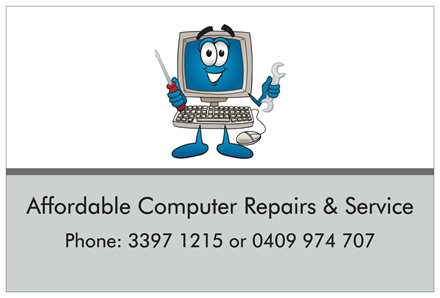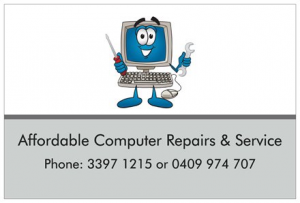 For Computer Repairs in Bulimba – Call 3397 1215 or 0409 974 707