Computer Repairs Ascot
Computer Repairs Ascot – We provide a mobile repair service to Ascot.  We charge $125 an hour, no call out fees or travel time.  Call 0413 712 666.
If you wish you can bring your computer to us.  We are based in Coorparoo 10 minutes south of Brisbane CBD.  We would appreciate a courtesy phone call before hand.
Mac repairs, Computer repairs, Laptop repairs  and IT Services.
All makes, models and age of machines and different operating systems.
Our business hours are 8am to 6pm Monday through to Saturday.
Computer Repair Services
Call us for the following:-
Computer won't boot-up
Retrieval of inaccessible data
Machine starting to perform slowly
Annoying pop-ups
Issues with image on your screen
Poor or lost internet connection
Wireless network problems
We are experienced in correcting all IT issues and are able to do so for an affordable fee – $125 per hour.  Please note if parts are required we will bill you for their cost.
We are not a 'fly by night' geek business and rely on word-of-mouth and satisfied customers to build our business, please read the reviews before making a call to us.
Whether your prefer a mobile service or workshop service we prefer to discuss with you over the phone or through email the particular problem you are experiencing or service that you need.  We can thereby advise you upfront what the various different scenarios may be in regards to your machine and the likely costs involved.
If you have an older computer and are concerned as to whether it is better for you to buy a new computer rather than pay for repairs we offer a $75 diagnostic service at our Coorparoo workshop.  This fee is only charged if you decide that after hearing about the likely cost to repair your computer you decide you would like to replace it rather than repair it.  We also do not charge the diagnostic fee if you use our data retrieval service which is a flat fee of $145.
The diagnostic fee covers just some of the time that would be spend on thoroughly examining your computer, laptop or mac to accurately determine the most cost-effective repair to your machine.
Call us today and a technician will discuss with you any difficulties that you are experiencing.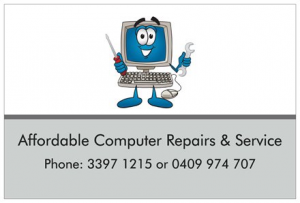 Computer Repairs Ascot – Customers come to us from all over Brisbane
Affordable Computer Repairs and Service