Computer Repairs Annerley
Computer Repairs Annerley – we are located just 10 minutes away in Coorparoo.  We repair, upgrade and maintain computers for residents and small businesses in Annerley – and provide a range of IT services.
You are also most welcome to drop off your computer to our workshop – most of our customers do.  We are open 8am to 6pm, Monday to Friday.  We would appreciate if you could give us a call to let us know you are on the way as depending upon your particular issue we may request your bring some peripherals with you.
If you would like a mobile technician to come to your home or office, please call us.  Being closely located we can provide a more efficient as well as effective solution to your PC, Laptop or Mac difficulties.
We charge a competitive rate of $125 an hour to repair your computer or resolve your IT issues.  Most repair jobs are completed within one to two hours.  When undertaking the work in our workshop, we never charge more than 3 hours labour and would anyway inform you of this beforehand.
Should your machine require new replacement parts, we would contact you before making any such purchase on your behalf.
Call us on 3397 1215 if you have one or more of the following problems:
Can't access your files or treasured photos
Computer won't boot
Screen is frozen
Machine is infected by a virus
Liquid spill on a laptop
Lines across the screen or screen is blank
Laptop, PC or Mac running slow
No power to your computer
Computer keeps crashing
Need data recovery
We are experienced in tackling all computer repairs and IT problems for PC's, Laptops and Macs.  We are available 6 days a week and don't charge penalty rates for weekends or after hours.
We have built our business based on customer referrals and returning customers using more of our services. We look forward to earning your trust as well.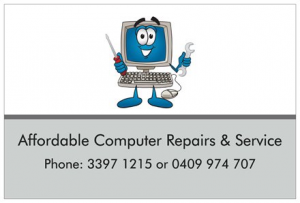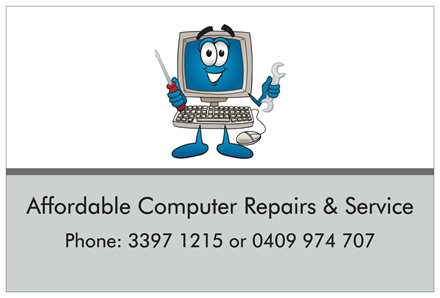 Computer Repairs Annerley
We are only 10 minutes away.
Affordable Computer Repairs and Service