Affordable Computer Repairs and Services provides a professional service with a high degree of technical expertise for home users and small businesses in Brisbane and do so at an affordable rate.
We repair PCs, Laptops and Macs  and offer a range of IT Services.  We service both the northern and southern areas of Brisbane.
We offer the choice of a mobile service  or a workshop (computer repair shop) service for businesses and home users.
You can trust us with your computer and invaluable data, please see the reviews written by our customers about our cost-effective expertise.
Our high standard of service includes:-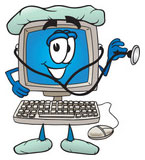 No call out rates or travel time.
Most repairs completed within 1 to 2 hours.
Jobs undertaken in our workshop are capped at 3 hours.
We keep you informed throughout the repair job.
We offer a diagnostic service for those not sure whether to repair or replace their machine.
Open Monday to Saturday, 8am to 6pm – and out of these hours if requested.
We are experienced in all computer brands, older and newer machines.
Contact us today and we will find a cost-effective solution to your computer problem or IT issue.
Our workshop and office is locally based in the southern Brisbane suburb of Coorparoo – just 10 minutes south of Brisbane CBD.
As many customers search for 'computer repairs near me' the bulk of our business is obtained from people living locally nearby.  However due to our expertise we do in fact have quite a significant number of customers bringing their machines to us from all over Brisbane (and even further afield) due to our extensive knowledge, quick repairs and friendly service.
To view the area we provide a mobile service to with no call out rates, no travel charges and no minimum one hour service fee, Click Here
For Mobile Computer Repairs Brisbane Northside Areas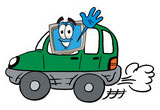 Phone  0413 712 666
For  Mobile Computer Repairs Brisbane Southside Areas
Phone 3397 1215 or 0409 974 707
For a Workshop Computer Repairs Brisbane Southside (Computer Repair Shop)

Phone 3397 1215 or 0409 974 707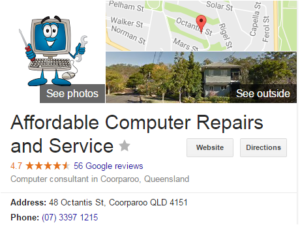 In general, repair jobs cost less when done at our office/workshop in Coorparoo.  This is because we don't charge for the down-time that occurs when waiting for your machine to perform lengthy system operations.   Should you engage our mobile repair service our hourly fees apply to the full time spent in your home or office, however we do not charge a call out rate nor for travel to your business or home.
For work undertaken at our workshop we never charge over 3 hours labour no matter how long the repair job takes.
We will also keep you informed throughout the repair process so that there are no nasty surprises in your bill.  We would never purchase replacement parts for your computer without your approval.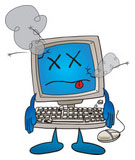 Many customers are unsure whether to repair or replace their computer as they are concerned about how much it is going to cost to repair their machine.  For this reason we can provide a diagnostic service ($75) the fee for which is only paid if you decide not to repair your PC, Laptop or Mac.
The diagnosis fee covers some of the time that we spend thoroughly testing your computer, providing you with the reason(s) your machine is not performing properly and giving you an accurate repair cost, including replacement parts if necessary.  We only offer this service for computers dropped off at our workshop in Coorparoo.
We are open 6 days a week (Monday to Saturday) from 8am to 6pm.  There are no unexpected charges such as minimum hourly rates, same day service fee or after hours or weekend additional charges.  We can also be available for customers wishing to deliver/collect their computers before and after their work day.
Our charge out rate is $110 per hour.  We charge a fixed fee of $145 for data recovery and a fixed fee of $190 for malware removal or spyware removal.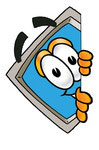 Come to us for computer help, we repair, maintain and upgrade all types of computers.  All makes and models, older and newer machines.  We can also build a PC tailored to your needs using stable cost-effective components.
Affordable Computer Repairs and Service is a small but very successful local Brisbane computer repairs business.  We like to think that we provide the best computer repair service in Brisbane.  The success of our computer repair business is largely due to the expertise of Mark owner and full time computer technician as well as the support of handpicked experienced and knowledgeable computer technicians that are available on call for onsite computer repairs.
We are but a small team of computer technicians with a very strong demand for our services.  However we still provide a speedy turnaround whilst maintaining quality workmanship and excellent customer service.
If you are looking for good old fashioned service, trustworthy computer technicians with a high customer satisfaction rating then please give us a call and we will assist your with your computer repair needs.
We repair, upgrade and service all computer brands including (but not limited to) Toshiba, Compaq, AMD, Dell, Acer, Apple Mac Notebooks, Apple Mac Desktops, Asus, Hewlett Packard, Samsung and Sony.  Call us on 3397 1215 or 0409 974 707.
Expert Computer Repairs Brisbane – Choose Affordable Computer Repairs and Service for the best service and repairs and a broad range of IT Services in Brisbane.