Microsoft Telephone Scam – Don't Fall For It!
I recently had a telephone call from a gentleman with an asian accent telling me that he was from Microsoft and I had a virus on my computer which he would fix…
We have had several jobs lately as a result of this scam whereby people have been taken in and as a result allowed these scammers access to their computers and banking details.
Microsoft would never phone you at home or work to inform you of a problem with your machine – hang up on these spammers and never allow them access to your computer.  If you do the following can happen:-
They can access all information including documents on your computer
They can track your typing and obtain your passwords, credit card numbers etc
They can load vicious malware on your PC or Laptop and send viruses to everyone on your email contact list
They can lock you out of your computer and damage or erase its contents.
This scam is happening worldwide – and there is an easy fix – just hang up the phone!
Affordable Computer Repairs and Service – Microsoft Telephone Scam – Don't Fall For It!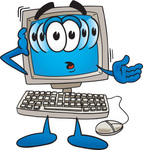 Please Share on Social Media