IT Support for Small to Medium Businesses (SMEs) in Brisbane
We too are a small business and due to the nature of our business need our computers and systems running perfectly 100% of the time.  We understand only too well how much your business relies on your computers and network (if you have one) functioning at all times.
Most small business just cannot afford to lose downtime due to IT issues and this is where we can help you.
Brisbane IT Solutions – With no Expensive Monthly Payment Required…
We do not want you to sign up for an expensive monthly maintenance contract.  Although we would love to!  However for most small businesses an expensive monthly maintenance contract is often not necessary for you to have your systems running optimally.
We can provide you with a monthly IT support maintenance program should this be what you are seeking.  If you are (or even if you are not) running a server and your business is so reliant on technology that you believe you need a regular maintenance and support program, please phone us on 3397 1215.  We will discuss your needs with you and devise a plan that meet these requirements.
If you do not want a monthly IT support maintenance contract, please continue reading…  Even if you do want a monthly IT support contract, please continue reading to see the type of IT services we would provide for you.
Recommended Businesses IT Support and IT Services
Use us as little or as much of our IT support and services as you like….
PCs, Laptops, Macs and Servers, we are skilled in all technologies.  We find solutions to both hardware and software issues.
Emergency Repairs
Call us for emergency computer support, repairs or networking issues.  We will endeavour to provide a solution to your problem as quickly as possible.  We are available out of our normal business hours for emergency repairs, best number to call on for after hour service is 0409 974 707.  Our business hours are 8am to 6pm Monday to Saturday.
System Upgrades
We are experienced in upgrading systems and computers.  After a consultation with you we will recommend what we believe will best serve your needs.  We will take into account your budget and capacity of your existing systems and machines.  We will also explain in plain English the what and the why of our recommendations.  We will provide you with a quote which we will stick to.  We can supply and install hardware and software of all different types including a new server.
Computer Maintenance and IT System Maintenance
Over time machines become clogged with files, superseded programs and unbeknownst to you data off the internet.  This slows down your machine and network.  It is a very good idea to have a regular IT maintenance program whereby your hard drive is cleaned up.  This allows better functionality of your computer.
We cannot stress enough how important it is to have a regular backup procedure.  Properly done you should back up to two external sources.  For example (in the instance of standalone computers) a portable hard drive (not stored with your computer) and on the cloud.
For networks you should have an automatic backup process in place.  This means if you lose data  it can be retrieved with little time and effort.
Affordable Health Check of your IT System/Computers
We offer a very affordable health check of your current computer and IT systems.  After taking a detailed analysis of your current systems we will be able to:-
Hopefully confirm that all is running smoothly and that your maintenance and backup systems are solid.  Your malware and security is activated and up-to-date.  Also hopefully that there be a couple of years before you need to consider any upgrade;
Determine any weakness in your IT systems;
Provide you with an itemised list of any work we consider needs doing.  This would be sorted into urgent, not-so-urgent and 'would be nice to have' categories.
Why Choose Us for IT Support and Solutions for your Business
We come to you – and quickly.  We do not charge a call out fee, nor for travel time.  Neither do we charge one hour minimum labour.
Our Mobile Service area encompasses a large portion of Brisbane.  Please click here to check our mobile service area.
You will be dealing with the same technician all the time who will know your system and your IT requirements.  This will allow your technician to quickly and efficiently undertake any repair or other IT services for your business.
We are experienced and very knowledgeable, your data, hardware and software will be in very capable hands.
We are not geeks, we are very capable of explaining any IT issue with you.  This means you will clearly understand exactly what we have done.  You will also understand any recommendations that we make for your business computers and/or network.
We also listen to you.  Your input can mean that we can resolve any problem quicker.  We also need to know what your requirements are so we can provide the best solutions for you.
Our rates are very affordable and don't reflect our high standard of expertise and great customer service.
We resolve problems quickly yet thoroughly.  We don't want you calling us back with an unresolved issue as we will not charge for this service.  We are therefore highly motivated to fix the problem properly with no cutting corners or shonky quick fix.  Our business reputation is on the line.  We currently only have satisfied customers and we intend to keep it that way.
We are honest and trustworthy.  Please read the reviews written by our business customers.  You can trust us to do an expert job.  You can also rely on us to ensure any sensitive information is safe with us.
Common IT Problems that your Business May Experience
Computer won't boot.  This could be caused by a faulty power supply or failure of another internal component or a software issue.
Internet difficulties.  This could be a problem with modem, your internet provider or your computer.
Machine(s) running slow.  There are a number of causes of this.  It could be that your hard drive is on its way out.  It could be a malicious malware or even something simple like having too many programs running in the background.
Computer making new strange noises.  This is usually a sign of some sort of hardware malfunction
Malware Infection.  There are many symptoms of a virus, malware or spyware.  These include frequent pop-ups, computer running slow and frozen screens.
Disaster Data Recovery.  This occurs when you haven't backed up your machines for a while and your system won't boot.
IT Support for Brisbane Businesses with Affordable Computer Repairs and Service
 If your business is located:
North of the Brisbane River Ph 0413 712 666
South of the Brisbane River Ph 3397 1215
Within Brisbane City Ph 0409 974 707
Contact
We would love to hear from you! Please fill out this form and we will get in touch with you shortly.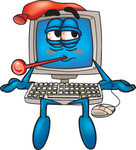 IT Support Brisbane with
Affordable Computer Repairs and Service
Us our IT Support and IT Services as little or as much as you like