Computer Repairs Lota
Computer Repairs Lota – Bring your troublesome PC, Laptop or Mac to us in Coorparoo and we will find a cost-effective solution to your problem.
Affordable Computer Repairs and Service provide expert yet affordable computer repairs and IT solutions – read our customer reviews
We charge $125 an hour to repair your computer, most jobs are resolved within one to two hours.  We never charge over three hours of labour and there are no penalty rates for after hours or weekend work.  Please feel free to bring your computer into us in Coorparoo, we would appreciate a courtesy call to let us know you are coming.
We are available 6 days a week so give us a call on 3397 1215 and we will resolve your problem promptly.  Our office hours are 8am to 6pm Monday to Saturday and we are also available out of these hours for customers who need to deliver or collect their computer before or after their day of work.
 Computer Repairs and Services that we provide.
Some of the many services we provide to residents and businesses in Lota include:-
Network services
Internet setup and connection difficulties resolved
Email setup and difficulties
System upgrades
Replacement of faulty hardware
Software problems fixed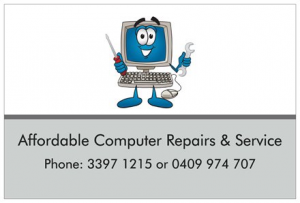 Computer Repairs Lota – we are based in Coorparoo