Computer Repairs Hamilton
Computer Repairs Hamilton: We are based in Coorparoo, just 10 minutes south of Brisbane CBD.  We have customers bringing their computers to us from all around Brisbane as we provide an excellent service at a competitive rate.  Our workshop is just 15 minutes from Hamilton.  We also offer a mobile repair service to Hamilton residents and businesses.
We are experienced in PC repairs, Laptop repairs, Mac repairs and a wide range of IT Services.
Before deciding to call us to resolve your problem, please read our customer reviews.
We are available 6 days a week so give us a call anytime between 8am and 6pm on 33971215 or 0409974707 or fill in the form at the bottom of this page and we will contact you shortly.  We look forward to resolving your computer and IT issues promptly and affordably.
Computer Repairs and IT Issues
Computer frozen or won't boot
Lost internet connection
Need a wired or wireless network setup
A liquid spill on a laptop keyboard
Failed hardware parts
Software issues and difficulties
Need a new PC built to your particular needs at a cost-effective rate using quality components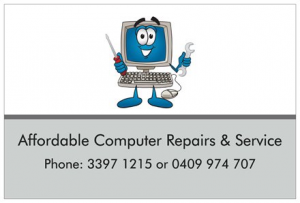 Computer Repairs Hamilton – we are 15 minutes away in Coorparoo