Common Computer Problems in 2014
Whilst at Affordable Computer Repairs and Service we provide a wide range of computer repair and other computer services, there are always some more common computer problems that we are requested to help with.
To demonstrate this, in this blog I have randomly selected a number of computer problems that clients have contacted us about through our website.  Through this list you should be able to see which are the more common computer problems as at 2014 when we provided assistance to these customers.
Random Selection of Common Computer Problems
Hi, I was wondering if there's still hope for my exactly 5 years old Macbook pro. It has been working fine, except for the track pad, which has been giving me trouble for the last two years or so. Sometimes it doesn't react to anything, and sometimes to everything. Just touching the area around the track pad is can be enough. It also gets stuck into "clicking mode". The problem has been coming and going and it has sometimes been working for months. Now suddenly it won't fix itself anymore and the computer is impossible to use without an external mouse. Would it be possible to replace the track pad and how much would it cost? I live in Highgate hill in Brisbane.
Hello, I have a Lenovo G570 laptop that needs hinges tightened as the screen is a bit wobbly. Would you be able to do asap and have an estimate on this repair?
I have older brother who lives on Gold Coast. I am looking to buy a CD that can reformat his Windows Vista operating system. Do you have any CD or problem solving answer?
I have a laptop at home (Acer Aspire 5542) which has a severely cracked screen. As I was looking to upgrade laptops soon, I was just wondering, if there was a way to transfer all of the files from my hard drive to a usb drive without having to get the screen fixed?  And if so, would it be cheaper to have the file transferred onto a usb drive or to just have the screen replaced?
Hi, just replaced my 2010 27″ iMac as the motherboard blew. Can you use any of the rest of it as parts?
I have a Macbook Pro that needs its 2 fans replaced. I was wondering if you would be able to pick up from Tingalpa?
Here are the details of my MBP. Would you be able to provide a quote?
Model Name: MacBook Pro
Model Identifier: MacBookPro3, 1
Processor Name: Intel Core 2 Duo
Processor Speed: 2.4 GHz
Number of Processors: 1
Total Number of Cores: 2
L2 Cache: 4 MB
Memory: 6 GB
Bus Speed: 800 MHz
Boot ROM Version: MBP31.0070.B07
SMC Version (system): 1.18f5
Macbook Pro 2011 – will not turn on….took it to Gigabyte who said it was the logic board and quoted $900 for repair / replace. At that price we should just buy a new one. Assuming it is the logic board can you do it cheaper?
Hi, Could you give an approx. price on what it would cost to fix my TOSHIBA NOTE BOOK 4.6?  The problem is that the Letter Z and ?/ and the number 0 on the right side do not work.
Seagate free drive not reading data. Has been tested powers up but mother board unresponsive. Data includes photo and video files to recover. Can you help and what would cost be. Have a new drive to save data to.
My MacBook turns off after start-up.
I spilt coffee on the keyboard of my macbook air last night, initially certain keys wouldn't work and now it won't turn on.
Hi there, we have a HP Pavilion 17 laptop model number E020DX that has had liquid spilt on the keyboard. The laptop turns on and seems to function but the display is mostly white and streaky. We would like someone to look at the laptop.
Hi, recently had a problem with my memory on my desktop. I ran the memory error thing from start menu and it told me I had a hardware error. Now my PC simply won't boot. The fans come on and the HDD is making its usual sounds but nothing on screen. I've tried different screens and cables also.
Hi, I cannot turn on my laptop. Can I bring it in today so you could have a look and advise the costs?
My Apple iMac model A1207 goes to a blue screen when turned on. I tried to hold command s and see if there is a driver issue but the message came up kextd[28]: giving up on diskarb; auto-rebuild disabled and the screen is blue and not doing anything. I was wondering about the cost of repairing? I do not have the original disks. Is it able to be saved?
Hi, Could you please provide me with a quote to remove and replace a cracked screen in an Asus R101D.
I am interested in getting a quote for a few services for my Acer Aspire 5750G laptop. It is at least 3 years old and as I do not have a copy of Windows, it has not been formatted in that time. I'm interested in both a disk clean up and a physical hardware clean up, as it regularly overheats (mostly thanks to my cats). It is also missing an arrow key so would love to get that replaced too.  Could I get prices for each of the three services individually (and a full price if it is different from simply adding those up), and also an estimate on how long the service would take?
Hi, my Acer laptop has split in between the disk drive and the beginning of the keyboard and I was wondering how much it repairs would be, also where are you located?
I have a macbook pro, purchased in 2010, but most likely a 2009 model. It looks exactly like the current macbook pro's on the market. It is functioning perfectly, no black outs or colour-wheeling episodes like a lot of older Macs, but the battery is pretty weak.
I was wondering how much it would cost to replace the battery on my laptop?
Please contact me via email as I am overseas and my phone number won't work over here.
Hi, just acting on my new year's resolution to get all our stupid computers fixed! And wonder if you could help me?? I have:
Lenovo laptop 1 that I can't get the qone8 and spam off no matter how hard I try.
Lenovo laptop 2 that after hot spotting my iPhone won't read any of the drivers for my Telstra Wifi (have tried reinstalling with no luck).
Lenovo laptop 3 that runs at a snail's pace and I can't work out why.
And then I also have 3 old Lenovo/IBM laptops that if possible we would like the data copied off for storage.  Hoping you can help, I am in Pullenvale but would be able to drop them in if that would expedite things (Laptop 1 is fairly high use).
Contact Us At Affordable Computer Repairs and Service in Brisbane
Certainly from the above you can see there are some common computer problems which do occur and naturally we are experts at fixing these.  However we are also skilled in solving the less common computer problems and invite you to call or email us no matter what type of PC, laptop or mac problem or computer repair that you may need.  Examples of services that we provide include data recovery, malware removal, replacement of faulty hardware, screen replacements and we also custom build PCs.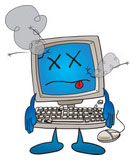 Please Share on Social Media