Australian Federal Police Virus Ukash Removal
Australian Federal Police Virus Ukash Removal
We are experienced in removing this virus and have a 100% success rate.  To date none of our customers have lost any data, files, treasured photos etc when we have removed the Australian Federal Police Virus Ukash from their computer. Call us on 3397 1215, six days a week (Monday to Saturday) and we will promptly remove this virus and return your computer to you the way it was before it became infected.  We will remove this virus from your PC or Laptop for the fixed price of $190 – please check with our competitors to find out that this is a very affordable rate.  It takes us several hours to run not one but two virus scans, remove the virus and add protection to your machine.
The Australian Federal Police Virus Ukash has become increasingly difficult to remove as it has evolved over time and become increasingly clever.  We now have to take the hard drive out of your computer, put it into another machine and then run the scans. Like any virus, the sooner you remove it the less damage it can do – and as this virus freezes your screen urgent expert removal is required.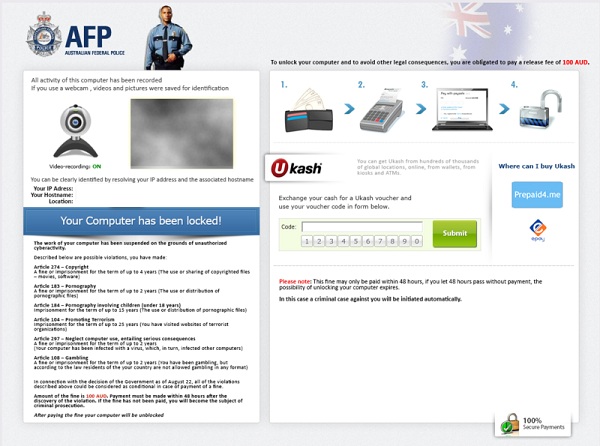 If you are not sure about calling us for help, please read the customer reviews on our site which attest to our experience and affordable prices.
For more information on the Australian Federal Police Virus Ukash, please read our blog on the subject. Affordable Computer Repairs and Service is located at 48 Octantis Street, corner of Mars Street, Coorparoo.  Please call us to let us know that you are bringing your desktop or laptop to us for removal of this virus.  Our turnaround time is usually a day or two. Our opening hours are 8am to 6pm, Monday through to Saturday.
Australian Federal Police Virus Ukash Removal